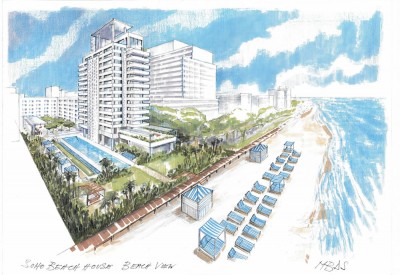 The Soho House Group Introduces Miami's Newest Private Members Club And Hotel Soho Beach House Opening October 2010
Soho Beach House
4385 Collins Avenue
Miami Beach, FL
Ph: 786 507 7900
Soho House welcomes its newest club and hotel to Miami this Fall with the opening of Soho Beach House, the brand's third North American property. Located in Mid-Beach, just north of South Beach, the oceanfront property will be both a club for private members and boutique hotel open to the public. Soho Beach House will also include a Cowshed Spa and a Cecconi's restaurant, both open to the public.
Soho Beach House is located on the site of the historic art-deco Sovereign Hotel, which has been redesigned and expanded to include a 16-story oceanfront tower. The 50 hotel guest rooms, ranging from 350-1500 square feet, offer ocean and bay views and feature antique furniture, king-sized beds, Samsung 40" flat screen TV's, iPod docks, drinks cabinets and rainforest showers with signature Cowshed products. A select group of rooms boast free standing bathtubs and private terraces overlooking the Atlantic Ocean. Other members and hotel guest areas include a Screening Snug, Drawing Room, indoor-outdoor bars and dining areas with lush gardens, two pools and a beach club area with full waiter service. www.sohobeachhouse.com
"The first time I stepped foot in Miami I was blown away by the sexy vibe, the beautiful art deco buildings and incredible beaches – I knew instantly I wanted to bring a Soho House there" said Soho House founder Nick Jones. "We have created properties in New York and LA, and introducing flip flop glamour to Miami seemed like the natural next step for us. The Beach House is just north of the South Beach strip. It is a place where I hope our members and guests will meet, sleep and definitely play…I am incredibly excited about throwing our doors open this fall – it's going to be fun."
Soho Beach House was envisioned by Nick Jones together with designer Martin Brudnizki, whose resume boasts Cecconi's West Hollywood, London's Scott's, The Club at the Ivy and J Sheekey Oyster Bar. Using inspiration from Miami Beach history, the property will have a South American style while offering a taste of the brand's characteristic, unpretentious European glamour.
Rooms
Bedrooms at Soho Beach House are available in six different sizes. With South American influences, all bedrooms are decorated with one-off pieces of antique furniture and feature king-size beds and rainforest showers stocked with Cowshed products. Most of the bedrooms overlook the ocean or waterways while a number have freestanding baths and private terraces. The entire property offers complimentary Wi-Fi and select floors have a computer nook with Macs for guests.
Ground Floor
Drawing Room – Upon entrance members will find a traditional wood-paneled Art Deco space that includes part of Soho House's art collection, as well as a Cuban coffee bar, a collection of rare cigars and a grand piano.
Cecconi's – Situated in the Ground Floor Courtyard, Cecconi's is a modern day classic Italian restaurant open to the public for breakfast, lunch and dinner seven days a week. Originating in Venice and with outposts in London and West Hollywood, Cecconi's has become a critically acclaimed dining destination featuring simply prepared Venetian inspired food. The restaurant design includes antique nile green stripped tile floors, a garden of Silver Buttonwood trees and a retractable awning for indoor/outdoor dining. Cecconi's offers an elegant and relaxed dining experience for members and guests.
Pool – The 100-foot-long pool is bordered by communal lounge beds and gardens where members and guests can relax and socialize while enjoying full waiter service.
Tiki Bar – Steps away from the pool and surrounded by a tropical garden, the Tiki Bar offers a casual secluded area for relaxing and dining on salads and grilled meats and seafood.
Beach Club – Members and their guests can enjoy the beach, lounge beds and beach huts that sit between the boardwalk and the Atlantic Ocean, with cold drinks and waiter service available. There is also a special safe area for children and provision for water sports.
Second Floor
Club Bar – Decorated in homage to 1940's Cuba the bar features old wood paneling, antique tiles, vintage furnishings and ceiling fans. Members and hotel guests drink and dine at comfortable sofas and tables under a retractable awning with views of the Atlantic Ocean.
Screening Snug – Complete with a selection of comfortable chairs and sofas, the Snug features full digital screening capabilities for gatherings, parties and member events. Drinks and food selections can be tailored to any occasion.
Cowshed (Spa and Active) – The Cowshed Spa is accessible to members, hotel guests, and the public by appointment. The spa features six spacious ocean facing mani-pedi chairs, five private treatment rooms including a couple's suite, steam rooms, a relaxation area, changing facilities and Cowshed's first Blow Dry Bar. The spa offers a full range of treatments as well as a Cowshed shop. Groups can book Pretty Parties for special occasions complete with private treatments, dinner and wine for a night of sociable grooming. Cowshed Active, the ocean front gym, features floor-to-ceiling windows, a full range of equipment as well as personal trainers, Yoga and Pilates classes.
Eighth Floor
Club Library – A private, comfortable space that is great for relaxing, reading or working with lounge seating, wood paneling, bookcases, ocean views, a Mac computer and waiters on hand to serve drinks and food throughout the day. With an adjoining Private Dining Room for 16 people, the Club Lounge is ideal for private hire and member events.
Pool and Bar – The club pool, which overlooks the ocean and is surrounded by double sun loungers and fans to keep members cool and comfortable, is for use for adult members and hotel guests. The floor also has its own towel station and showers with an adjacent bar. The club pool and bar is available for private hire and offers sunrise and sunset views.
MEMBERSHIP
The Soho Beach House membership committee will be taking applications for membership over the summer months, prior to opening. Local membership of the Beach House is $1800 annually, with membership for all Soho House clubs set at $2400. Members under the age of 27 receive special rates at $900 for Local and $1200 for Every House. Soho Beach House members will enjoy a specially curated monthly events program taking in live music, art events, wine tastings, literary salons, parties and much more. To inquire about membership please contact membership@sohobeachhouse.com .
SOHO HOUSE GROUP
The opening of Soho Beach House Miami marks Soho House Group's third property in the United States with additional properties in New York City and West Hollywood. Internationally, Soho House features several locations in London and one in Berlin. Cecconi's restaurant, Cowshed Spa and hotel accommodations can be reserved by contacting reservations@sohobeachhouse.com and to pre-register interest in the Soho Beach House event spaces contact events@sohobeachhouse.com.