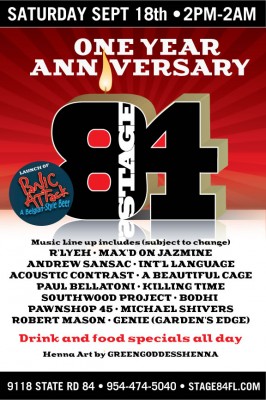 ONE YEAR ANNIVERSARY
Sept 18, 2010, 2pm
STAGE 84 (Music Cafe) – 9118 W State Rd 84 – Davie, FL
9118 W State Rd 84
Davie, FL 33324
stage84fl.com
Join us as we celebrate our first year with great food & drink specials, giveaways and special surprises. Yes, 12 hours of entertainment. Check out everything we have going on all week too.
LAUNCH PARTY FOR HOLY MACK's PANICK ATTACK (10% alc/vol) Come try this great addition to Holy Mackerel's dangerous line of fine brews. Sure to take off like wildfire…. First time available anywhere!!
Music Line up includes:
– R'LYEH
– MAX'D ON JAZMINE
…- ANDREW SANSAC
– INT'L LANGUAGE
– ACOUSTIC CONTRAST
– A BEAUTIFUL CAGE
– PAUL BELLATONI
– KILLING TIME
– SOUTHWOOD PROJECT
– BODHI
– PAWNSHOP 45
– MICHAEL SHIVERS
– ROBERT MASON
– GENIE (GARDEN'S EDGE)
We'll also have drink and food specials all day
Henna Art by Ashley Prang Haley
15 local artists will have their art showcased as well.
Kris Starry (photography)
Vaughn Reynolds (Tshirts)
Carlos Solano (paintings)
Brian Buzella (Paintings)
Kacey Westall Keogh (Paintings)
www.cupcakesinthelobby.com (mixed media paintings)
tequilagorilla@gmail.com (Photography)
MarcPaperScissors (paper)
Jade Nellans (mixed Media)
NOAH JONES (Photography)
Caron Calvo (pastels)
DEE STECCO (FOOD PHOTOGRAPHY)
Angelica Busk (Mixed media)
LORI PRATICO The winner of our mural contest continues her series with us with a special piece just for this show
Joshua Prezant (Photographer for Miami Herald)