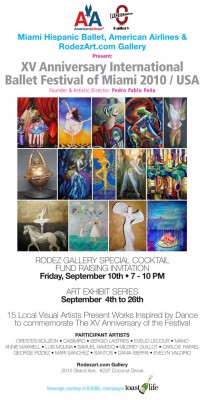 Fundraiser for XV Anniversary Int'l Ballet Festival of Miami 2010
The Miami Hispanic Ballet, American Airlines and Rodezart.com Gallery
are presenting a special fundraiser for the XV Anniversary
International Ballet Festival of Miami 2010 at the Rodezart.com
Gallery at CocoWalk, on Friday, September 10 from 7 to 10 pm.
The special cocktail reception will be held among the current exhibition at the gallery featuring 15 local artists being presented with each artist's own inspiration and interpretation of the dance.
The exhibition is on view through September 26.
PARTICIPATING ARTISTS:
ORESTES BOUZON, CASIMIRO, MILDREY GUILLOT, SERGIO LASTRES, EVELIO LECOUR, MANO, ANNIE MAXWELL, SANTOS MENDEZ, LUIS MOLINA, SAMUEL NAVEDO, CARLOS RAFAEL, GEORGE RODEZ, MARI SANCHEZ, DANIA SIERRA, and EVELYN VALDIRIO.
The gallery is open Monday through Thursday, 11 am to 7 pm and Friday and Saturday, 11 am to 10 pm. Sunday by appointment.
For more information, please call 786-467-7111.