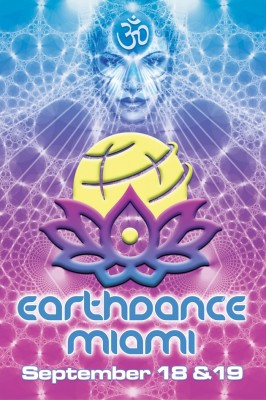 EARTHDANCE MIAMI: A Global Festival for Peace
September 18th and September 19th, Saturday 5pm to 4am, Sunday 10am to 10pm
The Sacred Space Miami
105 NE 24th Street
Miami (Wynwood), FL
http://www.earthdancemiami.com
♥ Expand the Love ♥ Presents:
EARTHDANCE MIAMI
A Two-day Global Festival for Peace, Earth Awareness, and Community Celebration!
For Tickets, Full Schedule and Updates: www.EarthdanceMiami.com
FEATURING…
~ Transformational Journey Day presented by Unity of the Bay @ Unity on Saturday 8am to 5pm (this event is donation based and takes place at Unity on the Bay)
~ Synchronized Global Peace Prayer with over 350 locations in 60 countries! Saturday night 7pm.
~ Yoga Aid Challenge supported by Global Mala, I Love Yoga and 305 Spiritual Gangsters on Sunday 10am to 2pm
~ Prayerdanse Rave Saturday 9pm
EXPERIENCE…two POWERFUL days of live CONSCIOUS world MUSIC, DJs, performance artists, drumming, HEALING Arts Temple, PRAYERDANSE Rave, DREAM Temple, sound healing, midnight KIRTAN, kids activity tent, Body Artists, synchronized prayer for peace, Elder's Wisdom Circle, the Conscious CAFE, Hookahs, art & crafts VENDORS and environmental non-profit organizations.
EARTHDANCE MIAMI also features an ECO CINEMA, spoken word artists, activists and POETS, qigong, and YOGA, visionary ART gallery and LOUNGE, as well as mind, body, spirit WORKSHOPS!
* Global OM and Synchronized Prayer: 7pm Saturday night! *
PERFORMANCES BY:
Galaxy Girl
Agape featuring Nadia Harris
Soulflower
Zedek Djah
Mantra Grooves
Teri Catlin
PHIsonica w/ Kavayah Amn
The Baboons
Aleph
Jeff Dean
Sky Door 34
Gypsy Cat
Richard Brookens
Raffa
Mike Matthews
Ganesha from Sol Temple
LJ MTX
Indovisual
FTG
Jebus Amoral
Greyhorse
DJ Stell*R
Alonso the Poet
Chaos Theory
Rhyme & Reason
Amanda O'Boyle
Youth Expressions
Pyrofusion Fire Performances
Jaya Vaswani My Bollywood
The Goddess Store
Almaas Bellydancers
Body Art by Keegan
The Dream Fairy
and more confirming every day!
MIND, BODY, SPIRIT WORKSHOPS:
Permaculture
Thai Yoga
Greening your Home
Transition Towns
Deep Ecology & Awakening to Earth Consciousness
Compassionate Communication (NVC)
Sacred Sound Healing
Five Elements Drumming
Bollywood Fusion Fitness
Dance/Movement Therapy
Partner Thai Yoga
and much more!
CONSCIOUS CAFE:
Raw, Vegan and Vegetarian Foods
Earth Elixirs
Poets and Performers
CONSCIOUS CARRY-ON:
Midnight Kirtan
DJs
The Dream Temple: Sound Healing Experience
ARTISTS:
Jacqueline Ripstein
Anastasia The Great
Sasha Sydnor
Margaret Morales
MOKSHA Collective Visionary Artists
* WWW.EARTHDANCEMIAMI.COM for TICKETS, full schedule plus performer and workshop updates!
Tickets: $29 day passes, $49 weekend pass
Sat night Conscious carry-on only– 12am to 4am $15
* A Limited number of discounted day passes are available for only $15, in exchange for two hours of volunteer time! Contact Arelis at Arelis@ExpandtheLove.com
HEALERS: We still need licensed massage therapists and energy workers for the Healing Arts Temple. If you would like to participate, please contact Val at Val@ExpandtheLove.com
VENDORS: If you are interested in vending at Earthdance, please email Jared@ExpandtheLove.com for applications. Limited number of tables available. Vendors must have products that are in alignment with the essence of Earthdance.
PERFORMERS: We are looking for individual artists for the Conscious Cafe, such as professional guitar soloists, sax, violinists, etc. If you would like to create with us, please contact Eric@ExpandtheLove.com
SPONSOR OPPORTUNITIES!
We are open to sponsors to help co-create this powerful event! If you would like to sponsor Earthdance in exchange for some awesome promotional packages, please email Jared@ExpandtheLove.com
LISTEN TO US ON WLRN, Michael Stock's Folk and Acoustic Hour! Sunday, September 12th at 2pm
Be part of the EVOLUTION!!! www.EarthdanceMiami.com
Join the community: www.ExpandtheLove.com
Come EXPERIENCE a truly conscious, globally connected one-of-a-kind Festival!
"Not just a festival focused on music, but rather a festival of spiritual consciousness, environmental and political activism and awareness…" – Jambase.com
"The most conscious global festival of our time.."- Time Out Magazine