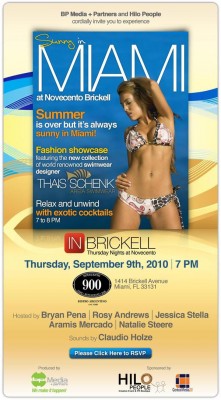 IT'S ALWAYS SUNNY IN NOVECENTO BRICKELL
Boutique agency Hilo People and BP Media + Partners in association with Central Media 28 have joint forces to create a series of themed events in the well-known restaurant Novecento located in the Brickell area, starting this thrusday September 9th at 7 p.m.
Summer is over but Miami is still hot, therefore the first event "Sunny in Miami" will keep the heat wave during thrusday's night at Novecento. Thais Schenk, world-known swimwear designer will host this event as her models showcase exclusive pieces of her new swimwear collection.
This series of themed events are part of the IN BRICKELL strategy which mission is to promote the area of Brickell. Novecento Brickell brings this concept for locals to enjoy a different and fun thrusday night.
Don't miss any of the IN BRICKELL Thursdays Nights at Novecento (1414 Brickell Ave Miami, FL 33131) every thrusday starting at 7 p.m.