ARTundressed 2010
An Erotic Art Exhibition Tour
Harvey's By the Bay – 6445 NE 7th Ave – Miami, FL 33138
November 18 – 20
www.artundressed.com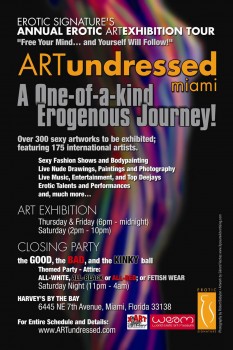 Erotic Signature announces its third Annual Erotic Art Exhibition Weekend, ARTundressed; Nov 18th – 20th, 2010. This Year's Attitude for ARTundressed 2010: "FREE YOUR MIND"…"and yourself will follow!" This event will kick off an Art Exhibition Tour in four different cities, featuring the winners from the Erotic Signature's 2010 Art Competition. The Tour starts with the first exhibition in Miami and will then travel to Atlanta, Budapest & Montreal.
ARTundressed 2010 Includes:
Art Exhibition at: Harvey's By The Bay
Live shows and performances; Live bands and deejays; Fashion Shows
Art contests such as Body Painting, Live Drawing, Fine Art and Photography
A Silent Art Auction during Saturday evening to benefit The American Foundation for AIDS Research (amfAR)
The Closing Party: "the GOOD, the BAD, and the KINKY" Ball (Saturday night)
Art Exhibition Presents:
Over 175 international artists featured in Erotic Signature's "The World's Greatest Erotic Art of Today" book
160 participating artists registered to showcase about 300 pieces in the Art Exhibition
More than 60 international winning artists scheduled to attend the Exhibition
Participation and installations presented by Local artists, as well as Masters of the Erotic Art movement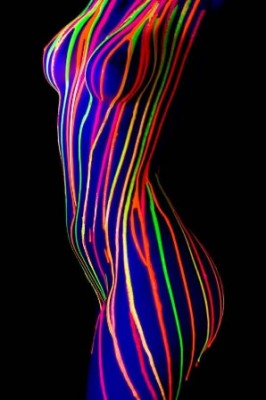 Purchase Your Tickets In Advance And Save!
Discounted Tickets with Online purchase only.
Ticket Prices Will Be Higher if purchased at the event.
These prices are for (a limited number of) Advanced Sales Tickets / Pre-Purchased Online before the start of the event.
Click Here To Purchase Tickets!
Purchase online tickets for ARTundressed Erotic Weekend…You MUST Enter Discount Code: FOXY
Vendor / Exhibitor Opportunities:
Don't miss this unparalleled opportunity to connect with thousands of patrons over the duration of Artundressed 2010. ARTundressed MIAMI delivers thousands of people in the demographic groups you want to reach most. The exhibit hall will be open for guests of ARTundressed to browse from 6pm to 1am on Thursday, Friday and Saturday. ARTundressed MIAMI happens once a year, so take advantage of this exceptional opportunity. Reserve your exhibit space today! Email us at MarlaW@eventrhythm.com and we will send you the ARTundressed 2010 Exhibitor/Vendor application.
Become A Sponsor:
We are planning a 6,000 attendee Erotic Art Festival to commemorate the launching of the "The World's Greatest Erotic Art of Today" – Volume 4 2010 publication. The ARTundressed Festival offers incredible sponsorship opportunities for exposure and sales to the erotic art and fetish communities, as well as the everyday partygoers. It is available to any company with products and/or services that would complement the concept of our Erotic Art Exhibition and Festival. Sponsorships are on a first-come first-serve basis. whether you can attend the ARTundressed Festival or not. So don't wait and ACT NOW!
Marla Warrington – Sponsorship / Media Director
MarlaW@eventrhythm.com – Ph: 786.223.2554
Photo Credit: Robert Bablyon