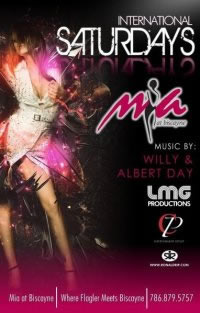 SATURDAY UPSCALE INTERNATIONAL NIGHTS MIA ULTRA LOUNGE
September 11, 10:00pm
Mia Ultra Lounge
20 Biscayne Blvd
Miami, FL 33132
Mia.QueCoCo.Com
Google Map
J.FABIAN Requests the Honor of Your Presence
Be A Part of This Fabulous Celebration September 11th 11:00pm at Mia Ultra Lounge
What Is Mia
Located in the heart of Downtown Miami, Mia at Biscayne was created as a reflection of the diversity Miami represents. A tantalizing blend of color, mixed layout, bold fixtures, and the highest quality of audio visual capability, the venue is a culmination of four unique concepts intricately meshed to comprise one entertainment complex. Lounge, Restaurant, Sidewalk Café, and Nightclub, Mia has become known as a unique 'supper club' that seems to have it all.
Music
Dj Whilly
Dj Albert Day
Rsvp + Bottle + List
â–ºMust Call Or Text To Rsvp Saturday Before 4pm
â–ºFor The Bday People I Have 5 Bottles For $500
â–ºNo One Can Beat My Prices
Thank you for using Soul Of Miami!