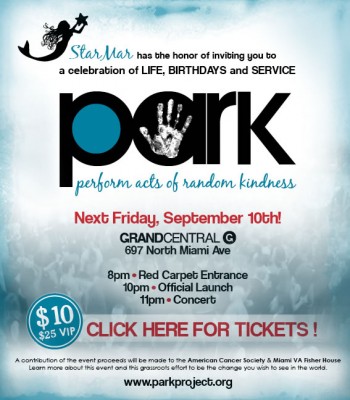 Park Project Invites You To Be One Of The First To PARK: Perform Acts Of Random Kindness
The Park Project Launch Party is open to the public. Doors Open at 8:00pm Official Launch is at 10 p.m. and Live Concert is at 11 p.m. Grand Central is located at 697 North Miami Avenue, Miami FL 33136.
Click here for tickets.
Park Project is committed to facilitating events that empower people to come together and Perform Acts of Random Kindness. PARK events will be a celebration and showcase of people, organizations and companies that are inspired to unite for a common cause. The FIRST event to launch PARK PROJECT is in celebration of LIFE, BIRTHDAYS and SERVICE.
StarMar, a comprehensive event consulting, production and management firm, is sponsoring this event along with a SHOWCASE of companies who decided to PARK for this cause. On Friday, September 10th, 2010 Downtown Miami's hottest venue, Grand Central, will open its doors to PARK at 8pm. Walk down the red carpet to towards the sound of Miami's own celebrity DJ, Robin Louis. The PROdeuces, Witeman & RobN, will flood our dance floor well before the Official Launch at 10pm. Enjoy GC's cash bar, professional stage, sound, lighting, video production and interactive touch screens and floor graphics too! Don't miss the live cabaret, Polynesian, Latin or hip hop performances by Miami Sass in between or the 11pm concert featuring Day Music Died. www.parkproject.org
There are incentives to PARK before the event! The first 200 people to purchase a PRE-SALE ticket will receive a PARK gift at the door. Special VIP upgrades for cancer survivors, veterans and service men and women. Email events@parkproject.org for more information.
A PRE-SALE ticket to PARK is $10 and $20 cash on event day. VIP tickets are $25 for an exclusive social hosted by StarMar and Chris Colina Catering. Drinks, hors d'oeuvres and networking opportunities as well as reserved lounge space for the first two hours of the event and more is included. Can't make it 9/10/10? You can still PARK! A portion of the proceeds will benefit the American Cancer Society and the Miami VA Fisher House. Learn more about Park Project and how people are joining in this humble mission to Perform Acts of Random Kindness to be the change we all wish to see in the world. For more information and to purchase your ticket visit www.parkproject.org.
Park Project's vision statement is, "To live in a world where people actively respond to the innate desire to serve." Live the cause, PARK! Follow them on facebook/theparkproject and twitter/@wepark. For more information on the companies sponsoring this effort, visit www.parkproject.org/showcase.php