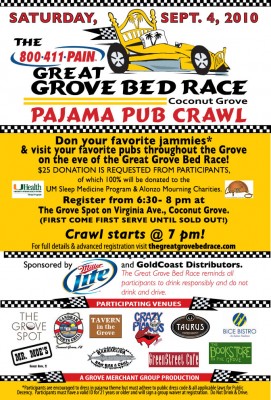 Great Grove Pajama Pub Crawl
Saturday Night September 4, 2010
Register From 6:30 To 8 Pm At The Grove Spot
(On Virginia Avenue behind CocoWalk)
Crawl starts at 7 pm!
sponsored by Miller Lite and Gold Coast Distributors.
Featuring
Grove Spot
Sandbar Sports Grill
Tavern in the Grove
Crazy Pianos
Taurus…another round
Bice Bistro
Mr. Moe's
Barracuda Raw Bar and Grill
GreenStreet Cafe
The Bookstore in the Grove
Participants are encouraged to dress in pajama theme, but must adhere to public dress code and
all applicable laws for public decency. Participants must have a valid ID for 21 years or older, and
will sign a group waiver at registration.
Do Not Drink And Drive!
for full details visit thegreatgrovebedrace.com.