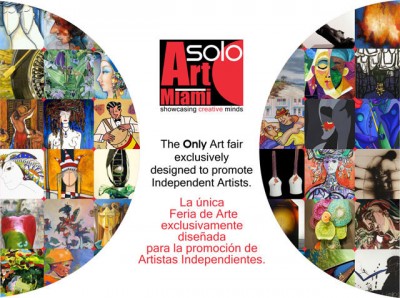 SOLO Art Miami: A New Art Fair to Debut this November
Miami Airport Convention Center (MACC). 711 NW 72 Avenue. Miami, FL 33126
November 19th through 21st, 2010
Admission: $10 General Public
Opening VIP Reception: Friday, November 19th, 2010. 7:00 p.m.
Miami has earned its title as an art capital of the world by hosting an elite list of internationally alluring, visual art exhibitions every winter season. Come this November, that same list will receive a remarkably distinct addition. In true artistic fashion, the inaugural SOLO Art Miami will reinterpret the meaning of "prestigious collections" as it adds new color to the existing art fairs scene, allowing individual artists, for the first time, to showcase their works without gallery representation.
The inaugural SOLO Art Miami art fair, presented by Medica HealthCare Plans, will run three-days November 19th through 21st at the newly renovated Miami Airport Convention Center (MACC), formerly the Double Tree Miami/Airport Hotel & Exhibition Center. More than 100 solo artists in such categories as painting, sculpture, photography, glass, printmaking, drawing and mixed media are expected to exhibit in this competitively selected show. "SOLO Art Miami is the perfect venue for the independent artist to exhibit," said Gilda Sacasas, executive director of SOLO Art Miami and herself a noted local contemporary artist. "This fair fills a void for independent artists to promote their work, and we expect to see a wealth of new talent on display."
The first 60 artists selected to participate in the fair have been announced. Some well-known artists include Vincent Dopico-Lerner, Konstantin Goldenberg, Shang Hu Hou, Federico Carosio III, Humberto Benitez, Orestes Bouzon, Ariel Tejera, Tadeo Lazaro, Antonious Kho, Dania Sierra, Gilda Sacasas and Emilio Sauma. The final announcement of the fairs total participants will be made shortly after the deadline for artists to apply comes to a close on September 15th. Entries are selected by a five-member panel, made up by the fair's producers and professionals knowledgeable in each category.
SOLO Art Miami will also welcome the area's most prestigious art galleries. "From personal experience, my team and I have designed a show that is sensitive to the needs of the artists," said Sacasas. "In addition to breaking the sometimes impossible gallery-barrier, we have consciously planned a show that comes at the height of South Florida's tourism season. Solo Art Miami is an excellent prelude to the famed Art Basel."
SOLO Art Miami will offer a VIP lounge and additional services for those who attend. The three-day art fair is expected to attract an estimated 14,000 people.
SOLO Art Miami, presented by Medica HealthCare Plans, is being organized by SOLO Art Group, LLC. Gilda Sacasas, the group's executive director, was one of the founders of Carnaval on the Mile, a three-day event with 100 participating artists and an attendance of an estimated 200,000.
For information on SOLO Art Miami, visit www.SoloArtMiami.com.