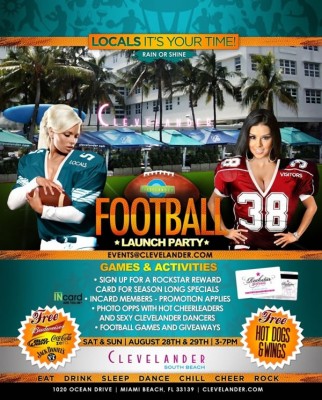 Football Launch Party : Locals Only
August 28 – 29 : 3pm – 7pm
Free Food, Drinks & Prizes!
Miami-Dade Or Broward County Photo Id Required For Rockstar Rewards Enrollment
Are you ready for some football? The Clevelander will host two football launch parties on August 28-29, 2010 from 3pm – 7pm. Each day guests will enjoy free food, games, entertainment and prizes, with a valid Miami – Dade or Broward county ID and enrollment in the Rockstar Rewards program.
In Game On Sports Bar, play Football Toss and savor free Jack Daniels and wings. On the second floor, take a peek at the new "locals only" 1020 Music Boxx and enjoy free Budweiser beer and hot dogs. Complete with nine high-definition flat screen plasma TVs, a projector and all-new plush furniture, this space is exclusive to only Rockstar Reward members during football season.
Coupled with amazing giveaways, cheap food and beverage specials, and exciting football themed entertainment, The Clevelander promises to be a unique destination for all your football needs.