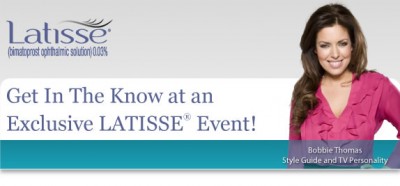 Curious about LATISSE® and if it's right for you? Grab a girlfriend and get in the know at the exclusive LATISSE® Lash Buzz event, where you will:
Learn more about LATISSE® solution from LATISSE® user and style guide Bobbie Thomas, and have your questions answered by a nationally recognized oculoplastic surgeon experienced in facial aesthetics. LATISSE® is the first and only prescription treatment to grow lashes longer, fuller and darker for those with inadequate or not enough lashes.
Monday, September 13, 6:30-8:30pm
Four Seasons Hotel Miami
1435 Brickell Avenue, Miami, FL
RSVP required: miamievent@ccapr.com
Bobbie will also share some of her best style tips as a bonus to the attendees.
Receive a free trial certificate for LATISSE® and have the opportunity to schedule a complimentary LATISSE® consultation with a local doctor to determine if LATISSE® solution is right for you.
Enjoy cocktails and hors d'oeuvres upon arrival.
There is no cost to attend.
Important Information About LATISSE® (bimatoprost ophthalmic solution) 0.03%: LATISSE® solution is a prescription treatment for hypotrichosis used to grow eyelashes, making them longer, thicker and darker.
Eyelash hypotrichosis is another name for having inadequate or not enough eyelashes.
Important Safety Information: If you are using, or have used, prescription products for any eye pressure problems, only use LATISSE® under close doctor care. Although not seen in LATISSE® clinical studies, may cause increased brown pigmentation of the colored part of the eye which is likely permanent. Eyelid skin darkening may occur which may be reversible. Only apply at the base of the upper eyelashes. DO NOT APPLY to the lower eyelid. Hair growth may occur in other skin areas that LATISSE® solution frequently touches. If you develop or experience any eye problems or have eye surgery, consult your doctor immediately about continued use of LATISSE®. The most common side effects after using LATISSE® solution are itchy eyes and/or eye redness. If discontinued, lashes will gradually return to their previous appearance.