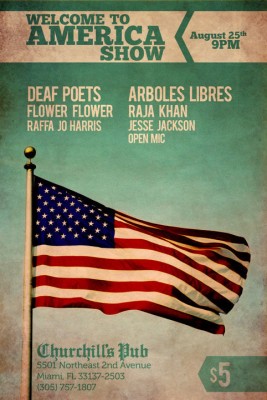 Churchill's Unplugged Wednesdays goes electric this week
August 25,2010, 9:00 pm
Churchill's
5501 ne 2nd ave Miami Beach Florida
Facebook evite.
Unplugged Wednesdays turns electric this week with a big fun filled night of great music at the price of only five dollars, lets end our summer in style.
We will be saying goodbye to Camilo of Flower Flower Yes this evening as they play there last performance here in little Miami!!! If you want to keep them forever then buy there cd and show some love.
We will also be celebrating Nacho from Arboles Libres who has just got his residency. I suggest you buy him a drink.
Open Mic will be set to play after the line up of bands this week.
– Wednesday marks the middle of the week which signifies the weekend getting closer. Luckily for most of us, were on summer vacation. So if your looking for something fun to do on a Wednesday night come out to Churchill's for an acoustic line-up of some amazing Miami musicians. This evening were offering a little taste of how great our music scene is with local favorites and some new talent.
Its an open mic so don't hesitate to come out and play some of your own stuff as we encourage you to have a great time.
Door fee – $ 5 bucks
So far we have a mystery, every wednesday is different and fun. We have random open mic acts all the time as well as the regular and favorites listed below.
Flower Flower
Deaf Poets
Arboles Libres
Raja Khan
Jesse Jackson
Raffa Jo Harris
Open mic