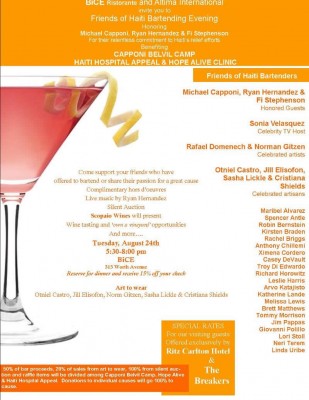 From Michael Capponi:
I'd like to thank all of you for your ongoing support and commitment to Camp Belvil. I am pleased to update that the camp is doing very well. Thanks to all of the overwhelming support from you, we have been able to provide shelter, food and general supplies to all 3000 Haitians since the earthquake. We have all worked together and have been able to make such an impact in the lives of so many.
I'm happy to announce we have been offered the opportunity to introduce our cause to the Palm Beach community at an event sponsored by Bice Ristorante "Friends of Haiti'- which will take place Tuesday, August 24th, from 5:30 to 8:00 pm (Sorry, for this, it's Palm Beach time….). Having said this, we can offer our Miami supporters special rates and perks and even complimentary stay at various hotels.
The "Friends of Haiti' event was originally conceived as a venue to honor local Palm Beach County residents who donate their time and in some cases, given up their tony lifestyles to relocate to Haiti and commit 100% of their time to this great cause.
Linda Uribe suggested to the organizers to add Camp Belvil as a beneficiary of the event only two weeks ago. Since then, over $4,000 raised in cash has been earmarked for our efforts.
Camp Belvil will now have a major presence during this 'kick off' event which has triggered enormous interest from the Palm Beach Community. We have secured private donations from major philanthropists (who have reached out from their vacationing homes), year round Palm Beach residents as well as an impressive roster of Worth Avenue merchants willing to contribute to our silent auction/raffle efforts.
We have secured over 200 RSVPS for this 'Friend raiser' event in spite of the fact it is the 'low season' in Palm Beach. We intend to build on these relationships and host a major fundraiser in the season.
In the meantime, I would like to invite you to support us in our efforts. In addition to the promo code offered through our invitation, we have secured two complimentary rooms at the Ritz Carlton for that evening. These rooms will be offered to those who donate a minimum of $1500. Please contact my office if you are interested.
The Breakers has been generous to offer a discounted room rate for guests that join us for the event. The Amazing Special Rate for Friends of Haiti $199 a night and $349 for a suite. The promo code: PB24 (Special offer for Friends of Haiti through August 31, 2010)