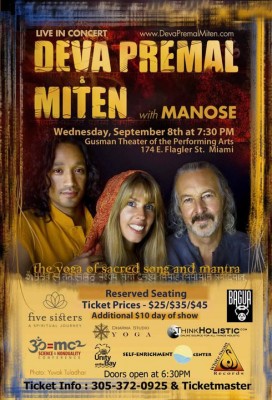 Stop, Breathe and Smile is proud to present Deva Premal & Miten with Manose World Tour 2010. The concert extraordinaire will take place on Wednesday, September 8, at 7:30pm.
Gusman Center for the Performing Arts
174 E. Flagler Street, Miami, Florida.
Tickets are available for $25, $35 and $45 at Ticketmaster or by calling the Gusman Box Office at 305.372.0925.
Deva Premal & Miten, accompanied by Nepali bansuri maestro, Manose, have toured the world, offering their audiences an intimate evening of spiritual rejuvenation, celebration and meditation, seeped in the richness of mantra. Their music transcends all the usual musical boundaries.
For more information about Deva Premal & Miten with Manose, visit www.devapremalmiten.com