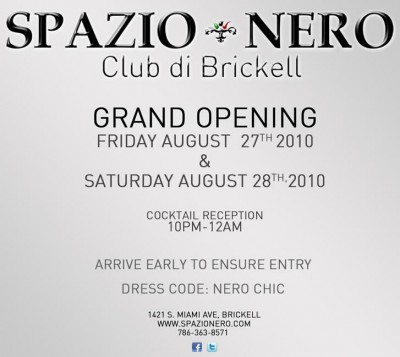 Spazio Nero
The Nightclub Of Brickell
Brickell's Most Popular Nightclub to Re-Open After Extensive Renovations and Upgrades to Accomodate it's Continuous and Growing Popularity
Spazio Nero
1421 South Miami Avenue, Miami, Florida 33131
Open since Fall 2007 , Spazio Nero, known as the only nightclub in Brickell, has briefly closed its doors to undergo massive upgrades and renovations to expand its size in order to accomodate more guests. Re-opening in late August 2010, over 3,000 square feet of space will be added to the (previously) 2,000 square foot on-premise nightclub at Segafredo Brickell. From state of the art LED lights to the interior design, by renowned designer Francois Frossard, Spazio Nero is THE nightclub of Brickell.
'Known as the 'Club di Brickell,' the only 'nightclub' in the area, we felt obligated to bring a true, state-of-the-art world-class nightclub to the Brickell and downtown Miami area,' said co-owner Alejandro Ferllen.'With the collaboration of renowned designer, Francois Frossard, and the award-winning audio and light specialists, Infinite Audio, we have achieved our goal and we can't wait to debut the new Spazio Nero to both our loyal and new clientele.'
Embodying the nightclub's name, Spazio Nero, the most talked about hotspot in the downtown Miami/Brickell area, is outfitted in all things noir, from the black, plush leather couches, to the black marble and stainless steel bar. Hints of light blue are scattered around the club on perfectly aligned pillars beneath the bar and on oversized mirrors placed high above. Silver hues wash over the black crocodile DJ booth standing tall in the spacious venue and also delicately painted on the black wallpaper, creating intricate patterns on the walls. The nightclub features 25 feet high ceilings, an elevated DJ booth, a one-of-a-kind advanced multi-zoned distribution audio system and a computer controlled lighting program by Infinite Audio Systems. Guests can enjoy the ambience, while sitting back and relaxing in the comfortable, plush seating area in the VIP section. The designer's goal was to create an atmosphere that would essentially take the guests of Spazio Nero "out of their daily lifestyles" and into a world where they would become part of the d'cor – thus, disappearing into the night.
This fashionable hotspot is one of the most stylishly hip lounges around town. Offering stellar cocktail concoctions, a fresh bar menu and a seductive blend of the best house, 80's and pop dance music spun by savvy DJs, each night turns into a one of a kind experience at Spazio Nero. Bottle and table services are available.
Developed by VE Restaurant Group, Spazio Nero is located at 1421 South Miami Avenue, Miami, Florida 33131. Spazio Nero will be open Thursday through Saturday from 10:00PM ' 5:00 AM. For more information please call 305.577.9811 or visit www.SpazioNero.com.
V&E Restaurant Group- Vida & Estilo (Spanish for 'Life & Style) is the restaurant group behind some of the most well-known dining establishments in Miami. V&E owns and operates Segafredo Brickell and Spazio Nero, Segafredo Bal Harbour, Segafredo Espanola Way, Brickell Irish Pub, Drexel Irish Pub, OH! Mexico, Caf' Nuvo, La Cantina Sports Bar, Mojitos Lounge'the group also manages several restaurants throughout Mexico City that function with the same high quality standards of service, style and entertainment. V&E has proven that is it a brand that follows the philosophy behind their name (Life and Style). The secret is always going a step above and beyond to provide their guests a fresh lifestyle concept that incorporates a gourmet cuisine, a diverse selection of specialty cocktails, live music and unique entertainment, all in a chic, yet comfortable, ambiance. The secret behind V&E's success is a dedicated team of seasoned professionals with the drive, ambition and power to take an idea, build on it and incorporate key elements such as Caf', Gastronomy and nightlife to create an innovative concept that works seamlessly.