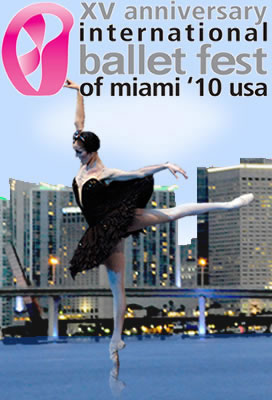 RODEZart.com Gallery Presents:
The XV International Ballet Festival of Miami 2010: a collective exhibition of 15 artists presenting works inspired by the Dance.
CocoWalk • 3015 Grand Ave., Suite 237, Coconut Grove, FL 33133 • Tel: 786.543.7237
Vernissage on September 4 from 7 to 10 pm
Special Fundraiser on September 10 from 7 to 10 pm
Exhibit on view September 4 – 26, 2010
Behold the choreography of color, shadows and light, the classical expression of movement in harmony with the modern hues of neo-impressionism; Contemporary artists paying tribute to the history of the Ballet, pointe work and acrobatic movements in mime and in unison with the canvas and the paint.
Guided by the hand of the painter, offering us a glimpse of the private world of ballerinas and setting the stage for the audience that secretly looks on, amid the muslin, tulle and voile tutus and awaiting to applaud the grand finale in all its splendor and glory.
Rodezart.com Gallery cordially invites you to be that audience as we proudly present: The XV International Ballet Festival Of Miami 2010 Via the Collective Art Exhibition of 15 Artists inspired by the ballet and its dancers.
Participating Artists: Orestes Bouzon, Casimiro, Mildrey Guillot, Sergio Lastres, Evelio Lecour, Mano, Annie Maxwell, Santos Mendez, Luis Molina, Samuel Navedo, Carlos Rafael, George Rodez, Mari Sanchez, Dania Sierra And Evelyn Valdirio.
We welcome you to join the artists in the celebration of our Ballet Festival.
A portion of the proceeds from the sale of artwork will go to benefit the Miami Hispanic Ballet.