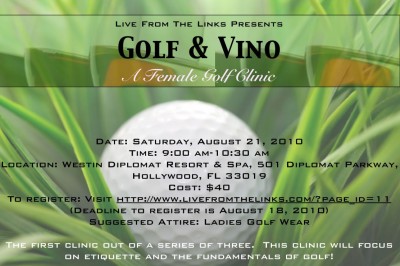 Golf & Vino (a female golf clinic)
August 21, 2010, 9:00 AM-10:30 AM
Westin Diplomat Resort & Spa Golf Course
501 Diplomat Parkway
Hallandale Beach, FL
Live from the links will be hosting an all female clinic on August 21, 2010, from 9:00 am to 10:30 am. This clinic will focus on etiquette, and the fundamentals of golf!
Learn to play the game of golf while strengthening business relationships through shared experiences. Golfers of ALL levels are welcome to participate! Clubs will be provided if you do not have your own. Suggested attire is ladies golf wear. Lunch specials will be available after the clinic at the Links Grille.
It's $40 to register. To register, go to www.livefromthelinks.com, click on events, and simply click the paypal link! The deadline to register is August 18, 2010, See you soon!
www.diplomatgolf.com
www.livefromthelinks.com