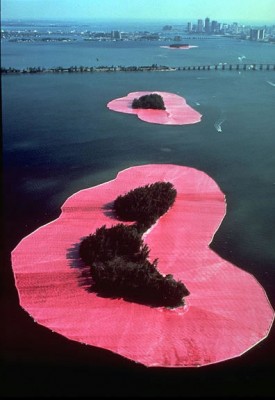 Christo & Jeanne-Claude, Surrounded Islands, 1983. Courtesy of the City of Miami
Bakehouse Art Complex invites you to the first BAC Art Canvas / Quarterly Panel
Christo And Jeanne-Claude In Miami 1980-1983
Presentation of Christo and Jeanne-Claude's "Surrounded Islands" slides byJoe Fleming
Informal dialog with Margarita Cano, Paula Harper, Helen Kohen,
Ruth Shack. Moderated by Barbara Young.
Bakehouse Art Complex,
561 NW 32nd St.,
Wynwood Arts District
Miami, FL 33127
Wednesday, September 1, 2010, 7:00PM
Admission Ticket $10
Members Free
Space is limited, please call to reserve your seat today!
305.576.2828
BAC Art Canvas / Quarterly Panels The first installment of BAC Art Canvas, a new series offered by the Bake house Art Complex open to the community, members and non-members alike, will discuss Christo & Jeanne-Claude and their project "Surrounded Islands" from 1980-1983. At no charge for our members, BAC Art Canvas is a quarterly panel discussion covering contemporary art in Miami.
"Surrounded Islands" was a temporary art event, but what transpired during the preparation of the project and what its gorgeous unveiling on Biscayne Bay meant to Miami still reverberates today. The dressing of 11 spoil islands in pink plastic was the catalyst that turned a culturally sleepy town into a vital city, home to art and artists. The panelists, participants and monitors of "Surrounded Islands", will share their memories of the roles played by individual citizens and special interest groups during those contentious days leading to the "live" exhibition portion of their uncommon, common efforts.
Participants:
Margarita Cano: As head of Art Services at Miami's library system; it was her initiative that gave us the first glimpses of what "Surrounded Islands" might look like when Christo's earliest drawings and sketches of the project were exhibited at Main Library in 1982.
Paula Harper, Ph.D.: Professor of Art History at UM, and the Art Critic at the Miami News during the period under discussion; she is a well-known Christo scholar, familiar with most all the couple's projects about which she has both written and lectured.
Ruth Shack: Recently retired President and CEO of the Dade Community Foundation; she was a Dade County Commissioner from 1976 to 1986, in the "hot seat" during the time the Christo project was the focus of attention from local, state and national governmental friends (she was one) and foes (there were many).
Helen Kohen: Art Historian, Critic, Consultant to Main Library's Vasari Project [an archive of the visual arts in Miami from 1945 to the present].
Joe Fleming: The attorney who led the complex negotiations for Surrounded Islands permitting with environmental groups, governmental agencies and various political concerns. As an arts and environmental supporter, a skilled and knowledgeable lawyer, and infinitely patient individual, Fleming was intimately involved with Christo and Jeanne Claude for several years and remained a good friend after the completion of the project. The collection of project slides were made by the Christos and given to Fleming.
Moderated by Barbara Young: Librarian, curator, one of the Vasari Project founders at the Miami-Dade Public Library System, worked with the Christos during the exhibition installation of preliminary works at the old Main Library, was recruited by them for various subsequent projects including the testing of project fabrics on the roof of library and working on the Islands. Mementos of her Jeanne Claude and Christo experiences are part of the Library's Vasari Project.