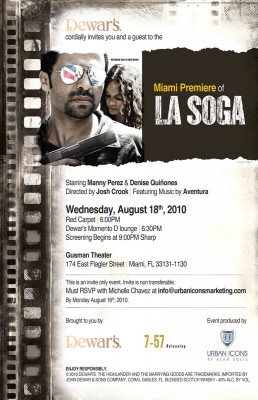 Dewar's Cordially invites you and a guest to the Miami Premiere of La Soga
8/18/2010, 6PM to 11:30PM
Gusman Theater
174 East Flagler Street
Miami, FL 33131-1130
After Party- Dolores Lolita – 11:30PM- 2:00AM
1000 South Miami Avenue
Miami, FL 33130-4109
Facebook evite.
Starring Manny Perez & Denise Quiñones
Directed by Josh Crook | Featuring Music by Aventura
Wednesday, August 18th, 2010
Red Capet – 6:00PM
Dewar's Momento D lounge – 6:30PM – 9:00PM
Screening Begins at 9:00PM Sharp
Please RSVP: Info@urbaniconsmarketing.com
"La Soga" is an edgy, action-drama, combining the gritty reality of movies like "City of God" and "Amores Perros." It is the personal journey of a brave man who risks everything to find justice, a visceral and gripping story of redemption that lays bare brutality and corruption. La Soga is set in the neighborhoods of t…he Dominican Republic and Washington Heights, New York.