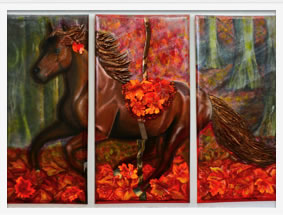 Opening Reception:
August 12, 2010
6-8 PM
1350 East Sunrise Boulevard
Ft. Lauderdale, FL 33304
"Fauna" is a MUST SEE!
Fauna, the third in Deborah Weed's series of 6′ x 4′ "Flying Horse Couture" triptics is HERE! This piece, along with her other horses and "Waterscapes" will be premiered this Thursday.
The premier of "Fauna" is in conjunction with the Construct artistic showcase at ArtServe: this exhibit explores the worlds of architecture, art and design.
The exhibit runs through September 3, 2010.
For information: web.mac.com/deborahweed