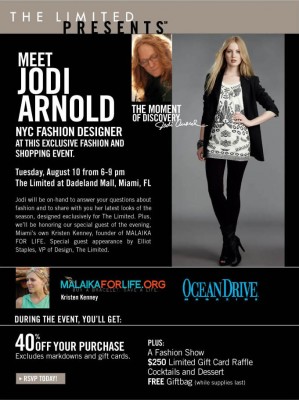 The Limited And Ocean Drive Magazine Present
Meet Jodi Arnold
NYC Fashion Designer at this exclusive fashion and shopping event.
Kristen Kenney, founder of Malaika For Life (www.malaikaforlife.org) has been awarded Ocean Drive's "Miami Hero" award for her philanthropic efforts to fight malaria and dedication to saving lives and empowering communities one bracelet at a time.
Tuesday, August 10th from 6pm- 9pm at The Limited in Dadeland Mall.
During the festivities, Kenney will join NYC fashion designer Jodi Arnold as she reveals her exclusive line.
Tuesday, August 10 from 6-9PM
The Limited at Dadeland Mall, Miami, FL
Click here to RSVP.
The award, which seeks to honor Miami natives who are making a difference in their communities and beyond, includes a $2500 donation to Malaika For Life and the opportunity for the organization's signature "save a LIFE" bracelets, to be featured and sold at The Limited in Dadeland Mall.
Kristen Kenney contracted severe malaria in Africa in 2009 while filming a documentary on global peace. She survived the life-threatening disease with the proper medication, and as a result, started Malaika For Lifeâ"¢, to raise funds through the sale of handmade bracelets to purchase and distribute malaria medication to vulnerable communities. Kristen graduated from University of Miami in 2006 in Broadcast Journalism. She worked on-air for Public Broadcasting (PBS) and SEC Sports before running Malaika For Lifeâ"¢ full-time.
Jodi will be on-hand to answer your questions about fashion and to share with you her latest looks of the season, designed exclusively for The Limited. Plus, we'll be honoring our special guest of the evening, Miami's own Kristen Kenney, founder of Malaika For Life. Special guest appearance by Elliot Staples, VP of Design, The Limited.
During The Event, You'll Get:
40% off your purchase
Excludes markdowns and gift cards.
Plus:
A Fashion Show
$250 Limited Gift Card Raffle
Cocktails and Dessert
Free Giftbag (while supplies last)