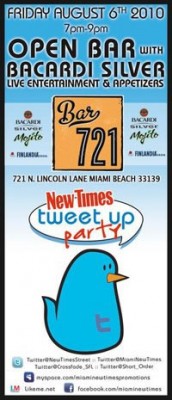 #tweetup
New Times Tweet Up Party
Friday August 6th, 7pm to 9pm
Bar 721
Miami, it's hot out there – come cool yourself with free Bacardi Silver Mojitos just for being such loyal and awesome readers/friends/twitter followers!
Miami New Times is hosting our August TweetUp – a cool little shindig to celebrate summer and social media.
Make sure to come on over to Bar 721 on Lincoln Road for Free Open Bar provided by Bacardi Silver, Live Entertainment and Appetizers!!
August 6 (7-9 pm)
Free OPEN BAR AND LIGHT BITES. and as always, NO COVER CHARGE.
Bar 721
721 N. Lincoln Lane
Miami Beach, FL 33139
We hope to see you there!