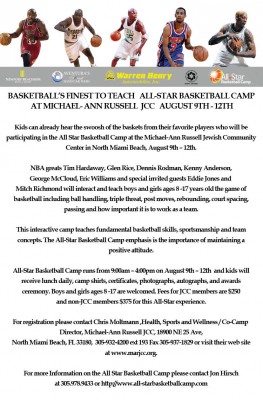 B-Ball's Finest To Teach Jcc All-Star Basketball Camp At Michael- Ann Russel Jewish Community Center
August 9th – 12th, 2010
Kids can already hear the swoosh of the baskets from their favorite players who will be participating in the All Star Basketball Camp at the Michael-Ann Russell Jewish Community Center in North Miami Beach, August 9th – 12th.
NBA greats Tim Hardaway, Glen Rice, Dennis Rodman, Kenny Anderson, George McCloud, Eric Williams and special invited guests Mario Chalmers, of the Miami Heat, will interact and teach boys and girls ages 7 -17 years old the game of basketball including ball handling, triple threat, post moves, rebounding, court spacing, passing and how important it is to work as a team.
"This interactive camp teaches fundamental basketball skills, sportsmanship and team concepts. The All-Star Basketball Camp emphasis is the importance of maintaining a positive attitude, staying in school and saying no to drugs and alcohol. These core values help enhance a sense of self confidence for these young souls" boasts Floyd Raglin, President of FSM, Floyd Sports Marketing and host of this interactive All-Star Camp experience.
All-Star Basketball Camp runs from 9:00am – 4:00pm on August 9th – 12th and kids will receive lunch daily, camp shirts, certificates, photographs, autographs, and awards ceremony. Boys and girls ages 8 -17 are welcomed.
For registration please contact Chris Moltmann ,Health, Sports and Wellness / Co-Camp Director, Michael-Ann Russell JCC, 18900 NE 25 Ave, North Miami Beach, FL 33180 305-932-4200 ext 193 Fax 305-937-1829 or visit their web site at www.marjcc.org.
For More Information on the ALL-STAR Basketball Camp please contact Jon Hirsch at 305.978.9433 or www.all-starbasketballcamp.com.