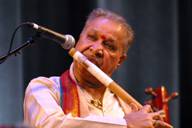 Pt. Hariprasad Chaurasia : World Renowned Bansuri (wooden flute) player with Pt. Anindo Chatterjee on Tabla, Mohini Athavale on Tanpura.
Saturday, September 4, 2010
Broward Center for the Performing Arts, Amaturo Theater,
201 SW Fifth Ave, Ft. Lauderdale-FL-33312
6:00 to 9:00 PM
Concert Only: $29- $125 ,
Fundraising dinner after the concert at Abdo New River Room, Broward Center : $75
To Purchase Ticket: www.browardcenter.org or please call 954-462-0222
Pt. Hariprasad Chaurasia is a world-renowned virtuoso of the Indian bansuri (Flute), who has delighted and enthralled the audiences around the world with his unique mastery of the North Indian bamboo flute (bansuri),with his versatility and inimitable style. He has collaborated with Western artists and groups from John McLaughlin's Shakti to Ian Anderson's Jethro Tull, to George Harrison, Mickey Hart, Jan Garbarek, Egberto Gismonti, Larry Coryell, to the Bay Area based saxophonist George Brooks and others, adding to his international appeal and widespread popularity. He is one of the busiest and most sought-after contemporary musicians in the world today. He is a flutist extraordinaire. His unparalleled mastery over the bansuri has won him the highest acclaim across the globe. He has toured the world, touching on almost every continent. He has hundreds of audio, video, and CD recordings to his credit.
Association of Performing Arts of India
www.apaiart.com
Non-Profit Organization