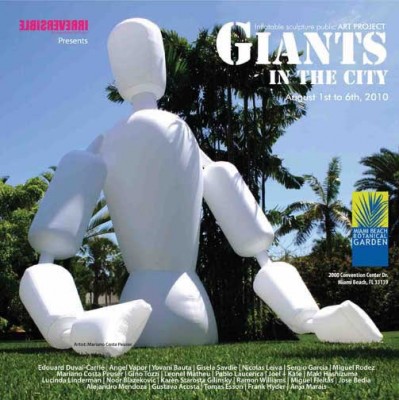 Irreversible Presents Giants in the City at the Miami Beach Botanical Garden
2000 Convention Center Drive Miami Beach, FL 33139
August 1, 2010 from 11:00 am
Opening Ceremony
August 3, 2010 from 10:00 am
GIANTS IN THE CITY Summer Camp and guided kids tour
all ages /please RSVP: norelkysb@irreversiblemagazine.com
August 4/5 from 10:00 am
Guided tours RSVP Only: norelkysb@irreversiblemagazine.com
August 6, 2010 from 7:00pm To Midnight
Closing Reception party
RSVP: norelkysb@irreversiblemagazine.com
www.giantsinthecity.com
www.irreversiblemagazine.com
www.mbgarden.org
Participants artists: Edouard Duval-Carri̩ РAngel Vapor РYovani Bauta РGisela Savdie РNicolas Leiva РSergio Garcia РMiguel Rodez РMariano Costa-Peuser РGino Tozzi РLeonel Matheu РPablo Laucerica РJoel Erland+ Kate Kaman РMaki Hashizume РLucinda Linderman- Noor Blazekovic- Karen Starosta-Gilinski- Ramon Williams- Miguel Fleitas- Jose Bedia- Alejandro Mendoza- Gustavo Acosta- Tomas Esson- Frank Hyder-Anja Marais- Othon Casta̱eda
The 2010 Summer Exhibition of Giants in the City, an inflatable sculpture public art project organized by founder and curator Alejandro Mendoza features twenty-five giant sculptures fabricated in nylon, inflated, and supported upright by a continuous supply of air through the interior. A family day on Tuesday, August 3rd from 10:00 a.m. to 1:00 p.m. includes arts and craft projects for youngsters, tours and interactive performances with the giant sculptures. The exhibition closes with a giant reception on Friday, August 6th, 2010 from 7:00 to 11:00 p.m. offering music and refreshments. Artists invited to participate in the 2010 Giants in the City exhibition at the Miami Beach Botanical include: Edouard Duval Carrie, Gisela Savdie, Gustavo Acosta, Frank Hyder, Jose Bedia, Joel Erland+ Kate Kaman, Noor Blazekovic, Pablo Laucerica , Lucinda Linderman, Tomas Esson, Leonel Matheu, Miguel Fleitas, Alejandro Mendoza, Karen Gilinski, Miguel Rodez, Nicolas Leiva, Maki Hashizume, Ramon Williams, Mariano Costa Peuser, Sergio Garcia, Yovani Bauta, Gino Tozzi, Anja Marais, Angel Vapor, Othon Castañeda
The 2010 Summer Exhibition of Giants in the City, an inflatable sculpture public Art Project by founder and curator Alejandro Mendoza features 25 giant sculptures fabricated in nylon, inflated, and supported upright by a continuous supply of air through the interior.
A family day on Tuesday, August 3 from 10AM to 1PM includes arts and craft projects for youngsters, tours and interactive performances with the giant sculptures. Sponsored by Irreversible Magazine.
The exhibit closes with a giant reception on Friday, August 6, 7pm to 12am with music and refreshments.