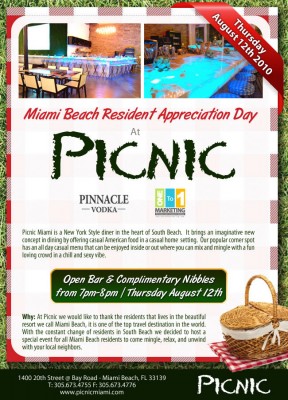 Miami Beach Appreciation Day
August 12th, 7:00 PM – 10:30 PM
Picnic Miami
1400 20th ST, Corner of Bay Road, Miami Beach FL 33139
www.picnicmiami.com
Come join us this Thursday August 12th for complimentary nibbles and an open bar from 7 PM to 10:30 PM at PICNIC – 1400 20th ST, Miami Beach FL 33139.
Why You Ask?
At Picnic we would like to thank the residents that live in the beautiful resort we call Miami Beach, it is one of the top travel destination in the world. With the constant change of residents in South Beach we decided to host a special event for all Miami Beach residents to come mingle, relax and unwind with your local neighbors.
Coming to Picnic is like coming home. See you soon..
WWW.FACEBOOK.COM/PICNICMIAMI