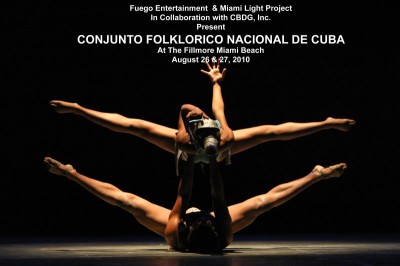 Fuego Entertainment & Miami Light Project In collaboration with CBDG, Inc present El Conjunto Folklórico Nacional de Cuba
August 26 and 27, 2010, 8:00pm
Fillmore Miami Beach at the Jackie Gleason
1700 Washington Avenue, Miami Beach, FL 33139
Tickets : $46.50/$66.50/$86.50
Ticket available through Ticketmaster
Click here to purchase or call 305.358.6626
"The Roots y El Tiempo" performance, under the direction and choreography of the internationally recognized professor Manolo Micler, will bring to life an energetic and colorful journey through Cuban rhythms – story of Cuba told through breathtaking dance and music.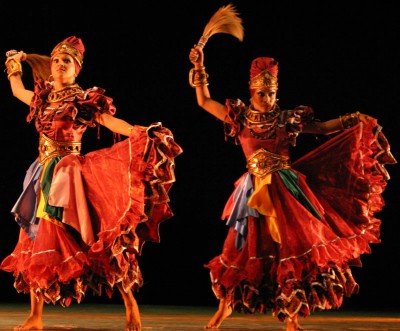 Founded in 1962, The Conjunto Folklórico Nacional is Cuba's premier folkloric ensemble, and represents the performance traditions of the entire country, with an emphasis on Cuba's African-based genres, such as rumba, comparsa, and the performance traditions associated with Afro-Cuban religions – namely, Regla de Ocha, Palo Monte, Arará, Tumba Francesa, and Abakwá. It is an outstanding performance of traditional Afro-Cuban folkloric music, as well as featuring performances by one of the largest assemblage of Cuban folkloric masters ever. It is a classic – both as an incredible aesthetic experience and as a documentation of a time that has passed into history. The Ensemble has always had as its main purpose to contribute to the rescue and recovery of Cuba's dance and musical roots.
Today, 48 years after its founding, the Ensemble has developed its own unique artistic style. El Conjunto Folklórico Nacional de Cuba has performed more than eight hundred thousand times, through its 93 international tours in Europe, America and Asia, and audiences from more than three hundred cities and towns worldwide have thrilled at their performances, different audiences have acclaimed in numerous languages the traditional songs and dances created by the Cuban people.