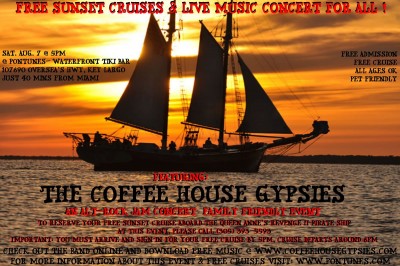 Free Sunset Cruise featuring The Coffee House Gypsies
Saturday, August 7 at 5pm
Pontunes Waterfront Tiki Bar
107690 Overseas Hwy, Key Largo
An alt-rock jam concert family friendly event
To reserve your free sunset cruise aboard the Queen Anne's Revenge II pirate ship, call 305-393-5593
You must arrive by 5pm
The award-winning band, The Coffee House Gypsies, returns to the Florida Keys once again for another waterside concert. This time the band is performing as part of The 2010 Key Largo Food & Wine Festival, where Chef Stephan Stoltze will serve exquisite meals with a waterfront view. It all takes place on Saturday, Aug 7th. The hosting venue for The CHG's alterna-pop-rock concert is "PONTUNES Tiki Bar & Grill and Marina", located on Mile Marker 108 (Jewfish Creek) in Key Largo. The show starts at 5:00 PM and will last until 9:00 PM. There is no admission and all ages are welcome to attend.
As part of The 2010 Key Largo Food & Wine Festival, the evening features Chef Stephan Stoltze's special; a delicious Two Course Dinner paired with fine wine for just $37. The Fleetwood Mac-like band will perform a concert of original songs and beloved covers for diners at the soire'. Afterward, PONTUNES is offering a free sunset cruise around Largo (aboard The Queen Anne's Revenge II ship). The cruise is free for anyone with a reservation at the event. Reservations should be made in advance by phone at 305-393-5593.
About the band: Both The New Times and The Miami Herald compared the music of The Coffee House Gypsies to the likes of Fleetwood Mac and The Mamas and The Papas. The band has won several awards, including one South Florida QOOL Shows Award and several STATUS QuO Awards. Songs from their latest release can be heard playing on Clear Channel's WKEZ's Acoustic Key Sundays (96.9 in the upper keys and 93.5 in the lower keys). The band is preparing to release a new album this fall in 2010.
The band invites everyone to check them out online at www.CoffeeHouseGypsies.com where visitors can listen to songs, download free music, and watch live footage from past concerts.
For more information about this event please call 305-393-5593 or visit www.Pontunes.com.