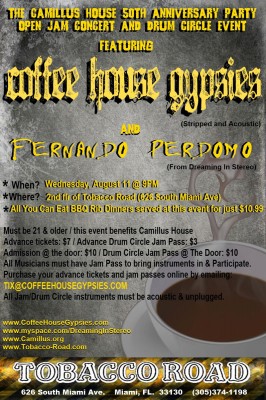 Camillus House 50th Anniversary Party featuring Coffee House Gypsies
Tobacco Road, 826 South Miami Ave
All you can eat BBQ rib dinners for just $10.99
Benefits Camillus House
Tickets: $7 Advance, $10 at the door
Email tix@coffeehousegypsies.com
The Coffee House Gypsies & Fernando Perdomo (from Dreaming In Stereo) together in a very special concert to celebrate Camillus House and it's 50 years of service to Miami
Two of Miami's local music scene powerhouses, The Coffee House Gypsies and Dreaming In Stereo's Fernando Perdomo, have teamed up to celebrate the 50th anniversary of Camillus House – the homeless shelter and service center of Miami-Dade County. The show takes place at 9:00 PM on Wednesday, August 11th on the second floor of Miami's oldest live music venue; the legendary Tobacco Road (located at 626 South Miami Avenue). The program features a rare singer/songwriter-styled performance by Perdomo prior to the acoustic-jamming of The Coffee House Gypsies (with audience participation encouraged). The two performances will then be followed by an open drum circle finale. You must be 21 or older to attend. Second floor doors open at 8:30 PM and admission is $10 at the door. Tickets are on sale for just $7 at www.CoffeeHouseGypsies.com. Jamming with The CHG and drum circle participation is open to the public. Anyone wanting to bring a percussive instrument for participation will be required to have a Jam Pass. Jam Passes cost $3 online at www.CoffeeHouseGypsies.com or $10 at the door. The evening benefits Camillus House and the homeless in Miami.
Camillus House is a registered 501(c)3 Non-profit agency that provides humanitarian services to poor and homeless men, women and children in Miami-Dade County in Southern Florida. Founded in 1960, it is one of the oldest and largest continuously operated charities in South Florida, providing a variety of services (including direct care for homeless individuals, treatment programs and job training for individuals with substance abuse and mental health issues, emergency, transitional, and permanent housing for individuals and families, and healthcare for the homeless and uninsured). Camillus House has grown over the past 50 years from a small overnight shelter into a full service center offering a full "continuum of care" for persons who are poor and homeless.
Every service offered at Camillus is carried out with the deeply held belief that every human being is precious and deserves love, respect, and a chance to live a dignified life. Camillus does much more than offer a free meal, medical care, a shower, or drug treatment. It offers a second chance to the desperate, the lonely, and the ones society has left behind. Many of the clients who come to Camillus House have nowhere else to go. They have no friends, no family, and no loved ones to help them through their times of trouble. Camillus House becomes their family, giving them the hope and support they need to begin the long, difficult transition to a new life and self-sufficiency.
About The Coffee House Gypsies: Both The New Times and The Miami Herald compared the music of The Coffee House Gypsies to the likes of Fleetwood Mac and The Mamas and The Papas. The band has performed all over Florida and in New York, and has won several awards including one South Florida QOOL Shows Award and several STATUS QuO Awards. They've worked with names like Dorian Reyes of Pangea and Kevin Michaels of Billboard. Songs from their latest release, The Artist, can be heard playing South, on Clear Channel Communication stations in the Florida Keys, and as far North as WYEP in Pittsburgh. The band is preparing to release a new album fall of 2010 and invites everyone to visit them at www.CoffeeHouseGypsies.com.
About Fernando Perdomo: GrungeKat Magazine called him "the anti-midi" and The New Times referred to him as a "local guitar virtuoso." Everyone agrees, this guitar slinging frontman is a musical genius. Having worked with names like Emilio Estefan, Cristian Castro, Jorge Moreno, MIKA, and Randy Barlow, Fernando Perdomo established himself early as a force to be reckoned with. His most recent releases include "Dreaming In Stereo" which sported local favorites like "Steal This Song" and "I'm not going to move to L.A." and his recent collaboration with 70's kid, Victor Kinglsey, "Fake Smiles." Perdomo's releases sell out faster than he can get them recorded and his collaborations are always superb. Visit him on mySpace at www.myspace.com/fernandoperdomo.