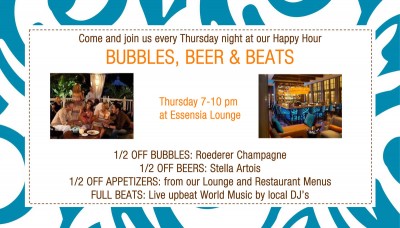 Essensia has added a new B to their Thursday happy hour… 'Bubbles, Beer & Beats'!
This weekly social introduces the new specials starting next week on July 22nd.
Every Thursday from 7:00 p.m. to 10:00 p.m.
Essensia Lounge @ The Palms Hotel & Spa
3025 Collins Avenue, Miami Beach, FL 33140
Beer is the new B in BUBBLES, BEER & BEATS THURSDAYS at The Palms Hotel & Spa
Essensia Lounge adds new ½ off specials and a new time to its weekly happy hour
Beginning July 22nd, The Palms Hotel & Spa invites guests to join them for its new Bubbles, Beer & Beats Thursdays now featuring ½ off Roederer Champagne ($7 instead of $14), ½ off Stella Artois beer ($3.50 instead of $7) and ½ off its new lounge & restaurant appetizers, combined with live entertainment by local acts playing a range of upbeat world music. This weekly Happy Hour social takes place every Thursday night, now at a new time, from 7:00 p.m. to 10:00 p.m. at the Essensia Lounge.
Half-off appetizer highlights include Executive Frank Jeannetti's signature Asian Chicken Salad Wraps ($6 instead of $12), Baked Goat Cheese Stuffed Artichoke Bottoms Stuffed with Mint & Basil Infused Goat Cheese ($7 instead of $14), Harissa Shrimp Tempura ($9.50 instead of $19), Mandarin Duck Salad ($6 instead of $12), Five Spiced Charred & Chilled Domestic Lamb Loin ($7 instead of $14), Grilled Giant Prawns with Mango Rice ($9 instead of $18), and much more.
Valet parking is $9.00 for Bubbles, Beer & Beats guests and complimentary if combined with full dinner at Essensia.
Essensia Restaurant & Lounge awakens the senses with natural gourmet cuisine, natural signature cocktails and an eco-friendly wine list in a sensuous and relaxing ambiance. The menus offer patrons a tasteful and wholesome variety of fresh and light worldly fare with a genuine focus on utilizing local, organic, and seasonal ingredients, and a wide selection of low calorie Spa selections. Essensia's exclusive wine list is committed to being highly sustainable, organic or biodynamic and has been selected for sharing Essensia's mission to be good for you and the environment. Essensia is open 7 days per week for breakfast, lunch, dinner and Sunday brunch. For restaurant reservations, please call 305.908.5458.