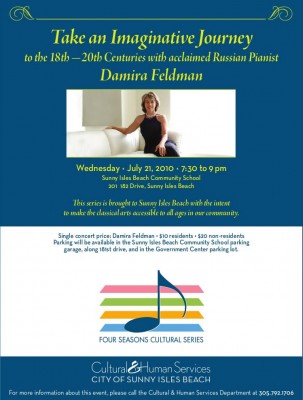 Russian born pianist Damira Feldman in Sunny Isles
July 21st, 7:30pm-9pm
The Concert Hall at Sunny Isles Beach Community School
Sunny Isles Beach Community School
201 182 Drive, Sunny Isles Beach
Free Parking
mirafeldman.com
Do not miss a special addition to the comprehensive calendar of the cultural events in Sunny Isles Beach and join the Russian born pianist Damira Feldman for an evening of some of the most moving and exciting music in the Piano Repertoire.
Ms. Feldman is known for her flair and artistry. Her interpretations of classical music have been appreciated for vibrancy, elegancy and vivaciousness. Her charismatic performances underscore eclectic integration of many musical selections that comprise her programs.
Come to hear the timeless music by Mozart, a transcription of the famous Vocalise by Rachmaninov, the most-often performed Variations Serieuses by Mendelssohn, passionate, romantic melodies and rhythms of Cuban composer Lecuona, exquisitely designed Waltz by Chopin, the most popular and beloved tunes of "Blue Danube" Waltz by Strauss in an elegant transcription by Schulz-Evler. On the top of this demanding program the monumental Chaconne by Bach-Busoni will culminate the concert.
You and your friends will be in good company of music lovers, along with the Community and Art leaders of South Florida.