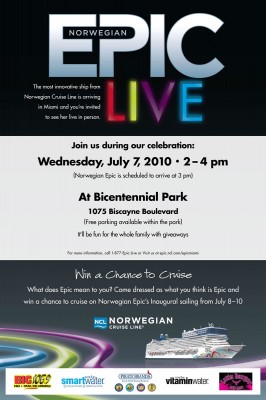 Come Welcome Norwegian Epic to Miami
July 7, 2010, 2:00 pm – 4:00 pm
Bicentennial Park
Join us as we celebrate Norwegian Epic coming to Miami!
Epic is scheduled to sail past the park at approximately 3 p.m.
Free parking available within the park and fun for the whole family including giveaways and music from BIG 105.9.
Win a chance to cruise-
What does Epic mean to you?
Come dressed as what you think is Epic and win a chance to cruise on Norwegian Epic's inaugural sailing from July 8-10.
Tweet live at the event using hastag #nclepic
Please RSVP at http://www.epic.ncl.com/epicmiami
For more information contact epiclive@ncl.com.