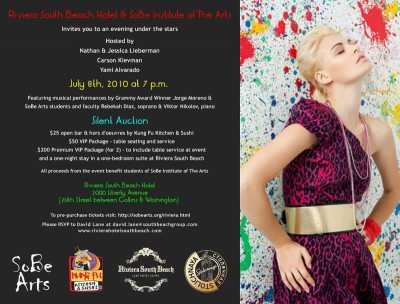 Riviera South Beach Hotel & SoBe Institute of the Arts Invites you to an evening under the stars Hosted by Nathan and Jessica Lieberman
Thursday, July 8, 2010 at 7:00pm-12:00am
Riviera South Beach Hotel
2000 Liberty Avenue
miami beach, FL 33139
(20th Street between Collins & Washington)
Open Bar and Hor D'oeuvres by Kung Fu Kitchen & Sushi
Click Here to pre-purchase tickets to the event
$25 – Regular Ticket
$50 – VIP Package – table seating and service up to 4 people
$200 – Premium VIP Package (for 2) – to include a table service at event and a one night stay in a one bedroom suite at Riviera South Beach
Click on this link to pre-purchase tickets to the event: http://sobearts.org/riviera.html
. Silent Auction
. Sponsor A Child
. Live Performance by Latin Grammy Winner Jorge Moreno "Best New Artist"
. Live Performances by SoBe Arts Faculty members Rebekah Diaz, soprano & Viktor Nikolov, pianist and by12 yr old "star" SoBe Arts student Angel Perez
Known as the SoBe Institute of Arts, this bustling facility pulses visions and sounds of hope and dreams. Renovated with love, sweat and good will; this school of the arts houses students from three years old and up. No matter what their artistic talent or skill level, students excel and all have the opportunity to pursue a passion they love.
Riviera South Beach will be holding a fundraiser/silent auction party on July 8th. Come support the SoBe Arts and help these young people follow their dreams. All proceeds from the auction and the door will go to support the cost of the tuition and resources needed to provide all students with the same
opportunity to learn and perfect their talents.
Please join us on Thursday, July 8 at 7PM for a fantastic evening while doing something wonderful for arts education.
Please RSVP to David Lane at david.lane@southbeachgroup.com
www.rivierahotelsouthbeach.com
For more information about SoBe Arts or to pre-purchase tickets in person contact: Anne-Marie Tristan, Administraative Director (305-674-9220)