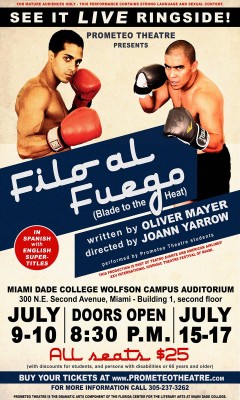 Prometeo Theatre To Stage The World Premiere Of Oliver Mayer's Spanish Version Of "Filo Al Fuego"
July 9th, 10th, 15th, 16th and 17th at 8:30 p.m.
Wolfson Campus Auditorium,
300 N.E. 2nd Avenue
The play is in Spanish with English super titles.
Tickets are $25 for the general public.
Discounts are available for groups, students, seniors, and persons with disabilities.
Event Information: For reservations and additional information, call (305) 237-3262.
Tickets available at www.prometeotheatre.com
Prometeo Theatre part of the Florida Center for the Literary Arts at Miami Dade College (MDC) will present the premiere of a Spanish version of "Filo al Fuego" ("Blade to the Heat") by Mexican-American playwright, Oliver Mayer. Author of more than 20 plays, Mayer is the winner of the Zumberge Individual Award and an Associate Professor of Dramatic Writing at the University of Southern California School of Theatre.
Prometeo's Artistic Director, Joann Maria Yarrow, directs this world premiere. "We have been blessed to be able have the assistance of amazing trainers who have been working with our actors." Yarrow noted. "The play is set in Miami and the world of boxing in 1962. Revolt, refugees and world champs bang around this town like nobody's business; a hotbed of political activity and a Mecca for the sport at the time,"
"Filo al Fuego" is about the essentiality of finding yourself, identifying yourself independent of the way others might identify you," says playwright Oliver Mayer. "It's funny that the play remains so edgy and advanced in terms of its portrayal of gay characters." Filo al Fuego is not for the faint-hearted. It deals with sexuality, race and ethnicity without pulling any punches; it dives head first into territory that others either tread lightly or avoid entirely.
His original and highly controversial hit play Blade to the Heat, on which this new adaptation is based, premiered at the New York Public Theatre in 1994, followed by a revised version at the Mark Taper Forum in Los Angeles. It has since played in many other venues and cities including Chicago, San Francisco and Mexico City — where it played 100 performances, earning a plaque at the renowned Teatro Lírico.
"Filo al Fuego of course shares the story, pace and theme with Blade to the Heat, but something about the work we did [for this adaptation] makes it more than a simple translation," Mayer said. "The very terrain and temperature of South Florida has invaded the play in sexy and sultry ways."
The performance is part of the XXV International Hispanic Theatre Festival, presented by Teatro Avante and American Airlines.