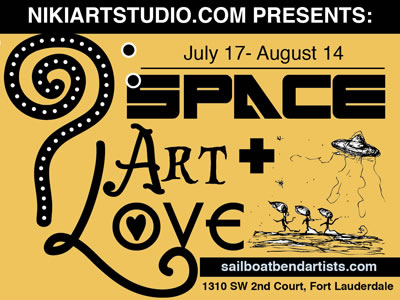 1310 Gallery at Sailboat Bend Artist Lofts and Niki Art Studio Productions presents:
Space, Art + Love
1310 SW 2nd Court, Fort Lauderdale 33312
Opens: Sat, July 17th, 2010 7PM- 11pm,
Art and Performance Evening Please visit
www.nikiartstudio.com/show.html
for times and artist information
Space, Art and Love. What are they and are they connected? Niki Lopez is mounting a visual art exhibition and will attempted to explore the inter-connective relationship of the three.
The exhibition will showcase paintings, photographs and prints that embrace the elements of the theme "Space, Art, Love." Many of Lopez's work has 'extra-terrestrial connotations as it is a subject she seeks understanding about, "It is arrogant for us to believe that out of all the universes and planets of those universes, that man on earth is the only intelligent being". Each of her pieces explores different theories, tells a story or asks a question, which amongst other things, compel us to explore outside of the 'box'.
Other artists in this exhibition include Luzalma Gonzalez, Kazilla, Klodi Lemoine, Tabatha Mudra, David I. Muir, Laura Peterson, Michael A. Clark, and Sharon Swift- who will be displaying photography in collaboration with the Broward Center of Performing Arts' 'Flamenco in the Sun'.
Hosting the opening night will be poet Renda Writer of WeMerge Talent Magazine and will include performances by Spoken Word poet Jashua Sa-Ra and the cast of Drag It Out. After party music will be spun by DJ One Star.
The month long event will feature different themes each Saturday between July 24 and August 14. These will include fund-raisers, workshops, Erik Proulx's movie "Lemonade" and guest speaker Jim Shermer of the Broward Cultural Division (check website for more).
Opening night's refreshments provided by Be Organic and 'café con leche' by Underground Coffeehaus.
The exhibition will raise funds for The Cooperative Feeding Program,
while food items will be collected on behalf of the RENMEN Foundation
which supports a Haitian children's orphanage.