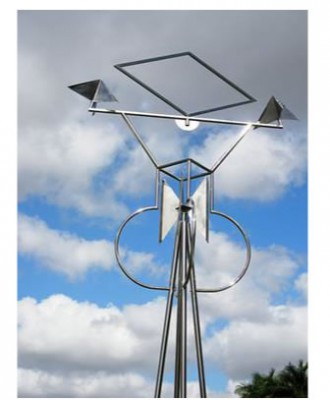 Jean Claude Rigaud: Meet the Artist
July 12, 2010, 10:30am
The Patricia & Phillip Frost Art Museum
Florida International University
Maidique Campus
10975 SW 17th St.
Miami, Florida 33199
thefrost.fiu.edu
Join us for Rigaud's lecture on July 12, 2010 which will focus on his art, "past, present and future." He will discuss his upbringing in Haiti and how he ventured off to many parts of the world to learn from master sculptors including French sculptor, Olivier Seguin. He studied art and engineering in Mexico and New York. At Columbia University, he studied marble, carving and art history. He worked as an engineer in New York City, then later became a full-time artist.
Rigaud's sculptures are abstract, geometric forms drawn in space, with smooth and polished surfaces inspired by Alexander Calder, Brancusi, Archipenko and David Smith. Rigaud is concerned with space and form. The open areas become an integral part of the composition, as important as the enclosing line. "In my sculptures, the negative space has form, has volume," explains Rigaud.
He now lives and works in Miami.