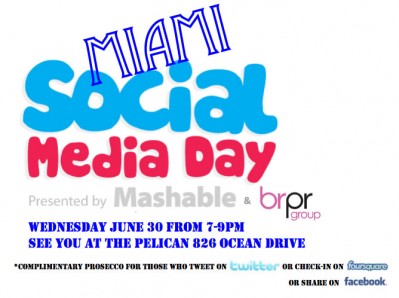 Join us for Social Media Day – MIAMI edition presented by Mashable.com & The brpr Group for the Miami sect. This is a celebration for those Miami social media mavens! We know you are social, Miami…but are you digitally social?
Surprises will abound! Pete Cashmore CEO of Mashable has provided us with a private message he wants to share with you via flatscreen and the event will be broadcast live via USTREAM.
Check-in on Foursquare, Tweet from the event or mention on Facebook and receive complimentary Prosecco! Let's show the social media world how Miami does it!
See you Wednesday from 7-9pm on Ocean Drive at The Pelican! (826 Ocean Drive)
Tweet @thebrprgroup for more information.
To officially be part of the online meet-up, navigate yourself on over here: http://www.meetup.com/Mashable/7491/