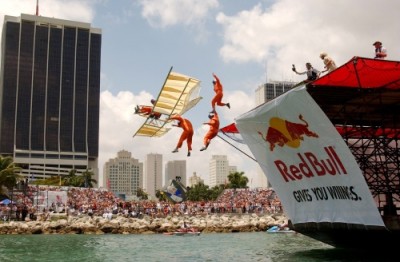 Bayfront Park
July 10, 2010
Gates open: 10:00AM
First Flight: 12:00PM
Last Flight: 2:30PM
No tickets required. Red Bull Flugtag is a free event and open to the public.
Red Bull Flugtag, which means "flying day" in German, is a competition that dares both the brave and the brainy to design, build and pilot homemade flying machines off a 30-foot high ramp in hopes of achieving human-powered flight. But don't be fooled – this is no ordinary flying competition. While distance is important, creativity and showmanship are necessary to impress the judges. These criteria have inspired such outrageous crafts as a sky-high Popemobile, an airborne outhouse, a flying fire engine, and even a replica of Santa and his sleigh to test their wings at Red Bull Flugtag.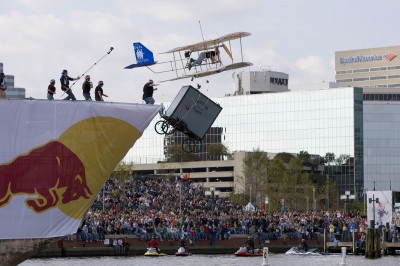 www.redbullflugtagusa.com
RED BULL FLUGTAG MIAMI FLIGHT MANIFESTO COMPLETE
38 Teams to Take the Plunge into Biscayne Bay on July 10 th at Bayfront Park
MIAMI – May 6, 2010 – Teams from across the east coast look to defy gravity with their human-powered flying machines on July 10th at Red Bull Flugtag Miami. After reviewing more than 270 applications, 38 teams received their boarding passes to participate in the outrageous flying competition hosted at Bayfront Park. Selected flyers like Team American Muscle, Save Salad Toss Pizza and Das Jorts, will entertain the crowd as they launch their crafts with hopes of soaring across the bay.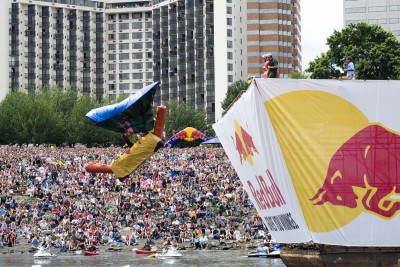 If your German is a bit rusty, Flugtag means "flying day." Each team of daredevils will launch from 30 feet above Biscayne Bay at Bayfront Park and attempt to take flight in their homemade crafts. The panel of celebrity judges will take three criteria into account in deciding who makes the podium: distance flown, creativity of the craft and the team's showmanship on stage. Spectators will also have the opportunity to chime in for their favorite team via SMS voting to select the People's Choice.
JAMAICAN BOBSLED, RUBBER DUCKY
Red Bull Flugtag Miami will have 38 outrageous crafts, ranging from flying squirrels, a giant guitar and a three tiered wedding cake topped with a bride and groom, built by participants ranging from pilots to engineering students and animators to roller derby girls. Each team of five will need to bring out their inner stuntman and sheer silliness in order to make a splash against a wide array of talent.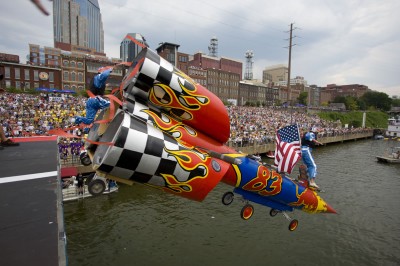 While the sky may be the limit on creativity, there are still a few flight regulations. First off, all flying machines must be entirely human-powered (no external energy sources or stored power, so forget about the slingshots, catapults or anything besides your own burliness). Second, no matter what they say, size does matter – all crafts must be less than 30 feet wide and must weigh no more than 450 lbs. (including the pilot).
PREPARE FOR TAKE OFF
For Flugtag novices, the first Red Bull Flugtag took off in Vienna, Austria in 1991 and has since visited more than 30 countries around the world attracting crowds of up to 300,000. Currently, 195 feet stands as the farthest flight which was set back in 2000 in Austria, but the US isn't far behind with a record of 155 feet set in 2007 in Nashville, Tenn.! Miami will host the first 2010 Red Bull Flugtag in the US followed by the Twin Cities, MN, Long Beach, CA and Philadelphia, PA.
Red Bull Flugtag is a free event and open to the public. Gates open at 10:00am and the first craft launches for flight at 12:00pm.