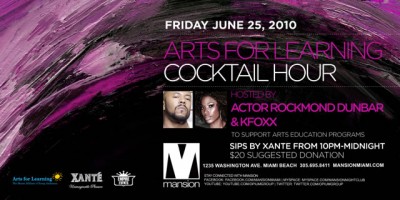 Join Hosts Kfoxx And "Soul Food'" Star Rockmond Dunbar To Raise Funds For Arts And Education And Celebrate The American Black Film Festival.
Friday, June 25 At 10pm
Club Mansion At 1235 Washington Avenue.
$20 Donation Gets You Entry To Mansion All Night And Open Xante Bar Until Midnight.
Party For A Cause!
RSVP TO kalyn@a4lmiami.org
Arts for Learning's programming is made possible by individuals like you and by support from Assurant Solutions, Bank of America, City of Miami, City of Miami Beach, Cultural Affairs Program, Cultural Arts Council, Dade Community Foundation, E.S. Moore Family Foundation, Jonathan D. Lewis Foundation, Miami-Dade County Department of Cultural Affairs and the Cultural Affairs Council, and the Miami-Dade County Mayor and Board of County Commissioners, Rush Philanthropic Arts Foundation, The Children's Trust, and Young Audiences, Inc. For more information, please contact Kalyn James at 305-576-1212.