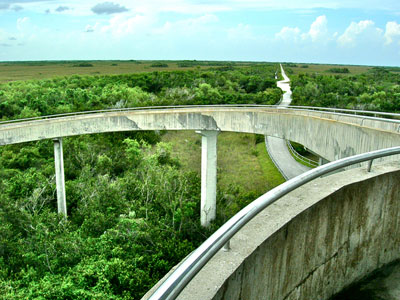 Florida Arcane
from The Society for the Preservation
of Lost Things and Missing Time
June 24 – September 19, 2010
Main Library, 2nd floor exhibition space, 101 W. Flagler Street, Miami – 305.375.2665
Reception (with Solomon Graves!): Thursday, June 24, 6:30 – 8:30 p.m.
The Society for the Preservation of Lost Things and Missing Time presents objects overlooked in history's master narrative. This special installation of photographs, archival materials, and objects documenting the odd, arcane and archaic in the State of Florida is curated by TSPLTMT's Executive Director, Solomon Graves. The exhibition includes displays on Jacqueline Cochran, the Space Coast Polymath; the Archives of Dr. Eugene Birchwood, documenting his involvement with the Godsped Airstream Community; and brand new images of a failed city in the Okefenokee Swamp!
UPDATE: The Miami-Dade Public Library System is thrilled to announce that Solomon Graves will be present at the reception. He will be at Main Library completing exhibition-related work on a rare Miami stopover between research trips.
Our Mission is to Prevent the Loss of Fringe Thought, to keep lit the Fire of Impossibility, to find that which lay Undiscovered beneath Dust and Sediment,/ out of Sight and Forgotten./Missing time was recorded and we are witness after the fact./ Its Products Whisper to Us across Timespace./It is our Mission to Thwart the all too common Demise of Things,/ Stories, Ideas, which may not fit History's Master Narrative./ We crave the Archaic and Arcane, the Strange, the Paranormal,/ the Outer Edge, the Little Known , those Things imbued / with Magical Properties, the Folkloric, the Homemade, the Story-told, /the Other World-ly./Left-Field.
Shown: from Failed City in the Swamp, digital print, 2010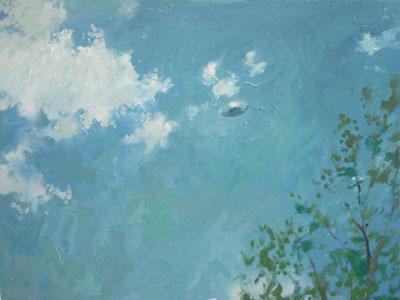 Paredolia
Derek Buckner
June 24 – September 26, 2010
Main Library, 1st floor exhibition space
New York artist Derek Buckner works obsessively on series of paintings in which he takes on a specific subject (highway, truck, landscape), shown from a birds' eye perspective, and explores its variation on a theme. This exhibition features one of Buckner's latest series of oil paintings portraying images of UFOs as the dominant feature; depictions of the cityscape, buildings, and the earth are implied rather than a central figure. The dreamy yet haunting works explore the poetics of the unfamiliar and accentuate the ambiguity and psychological impact of the unknown.
Derek Buckner grew up in Brooklyn, New York. He went on to study at Vassar College and received his B.F.A. from The School of the Art Institute of Chicago. He has exhibited in New York, Los Angeles, Chicago, Italy, Mexico, East Hampton, and Sante Fe. His work is in numerous private and corporate collections in this country and abroad. This is his first solo exhibition in Miami, Fl.
Shown: Derek Buckner, UFO Sighting #2, 2009, oil on panel.