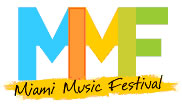 FOR IMMEDIATE RELEASE
Contact: James Echols
SOUL OF MIAMI TO SHOWCASE SOUTH FLORIDA ARTISTS AT MIAMI MUSIC FESTIVAL
(Miami, FL) June 14, 2010 – Soul Of Miami, a popular website for local events, has partnered with the Miami Music Festival. The multi-genre emerging artist festival and new music conference in South Florida taking place November 12-14, 2010 will feature a "Soul Of Miami" stage, which will showcase a selection of the area's best independent acts.
The three-day, multi-stage event will feature acts of all genres from Florida, the U.S. and around the world. The Miami Music Festival conference for emerging artists will be held at the Hyatt Regency Miami and will offer a series of panels, master classes, workshops and interactive sessions designed to give musicians hands-on instruction and information about navigating today's music industry.
"The Miami music scene is thriving and offers a nice mix of rock, alternative, Latin, urban, Caribbean and jazz artists. We expect to see some amazing local artists at the Soul of Miami stage," said the festival's CEO Irwin Kornfeld. This year's event will showcase more than 500 performances by new and developing artists at venues throughout Miami and Miami Beach, including two daytime sessions on five stages at Bayfront Park, in addition to a show at the Adrienne Arsht Center for the Performing Arts.
The Soul Of Miami website (soulofmiami.org) was started by James Echols and Annette Peikert in July of 2008 to share information about fun events taking place in South Florida. Without any marketing or promotion whatsoever, the Soul Of Miami quickly became very popular amongst scenesters and partiers. It is now the go-to site for thousands of locals seeking the best of Miami's social offerings. "We are very excited to participate in the Second Annual Miami Music Festival. Miami sorely needs to promote its live music scene, and we are happy to be a part of it," says Soul Of Miami co-owner James Echols.
A list of performing artists at the Soul of Miami stage will be available soon on their website, www.soulofmiami.org. For other information regarding the Miami Music Festival and Artists Conference, please visit www.MiamiMusicFestival.org.