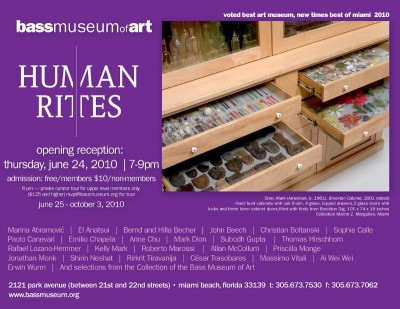 human rites opening reception: Thursday, June 24 – 7-9pm
Gertrude Silverstone Muss Gallery
6pm: private curator tour for upper level members ($125 and higher)
free for members, $10 for non-members
The Bass Museum of Art is pleased to present Human Rites. This exhibition examines ritual through art; and it also examines art through ritual, depending on your point of view. From mundane human activities to sacred practices, from the past through the present, rites and rituals have been pervasive subjects in artistic practice. Human Rites will present works such as 15th century devotional polychrome statues of Mary and 16th century altarpieces alongside works by renowned contemporary artists. This juxtaposition of works circumscribes the timelessness of rituals, expressed historically and anthropologically in religious, as well as other contexts.
Works of art in this exhibition also reflect both the subconscious and premeditated human need for rituals in our every day lives. Votive works by Janine Antoni and Marina Abramovich survey the ceremonial aspects of womanhood; Rirkrit Tiravanija's Buddha figurines describe the devotional offerings that people manufacture for their gods; collected items by artists like Mark Dion, John Beech, and César Trasobares investigate form, the found object and performative aspects; Allan McCollum 's repetitive series' reflect the construction of objects as substitutes for the real object. Ai Wei Wei uses the bicycle as both symbol and found object in the construction of a monumental totem form. Artists in the exhibition include: Thomas Hirschhorn, Priscilla Monge, El Anatsui, Erwin Wurm, Mark Dion, Christian Boltanski and Cesar Trasobares, and others.
Curated by Silvia Karman Cubiñá, Bass Museum of Art Executive Director and Chief Curator, and Steve Holmes, Adjunct Curator, Bass Museum of Art. This exhibition is the second of three exhibitions in The Endless Renaissance series at the Bass Museum, that began with the exhibition The Endless Renaissance in 2009 and will conclude with a publication in 2012.