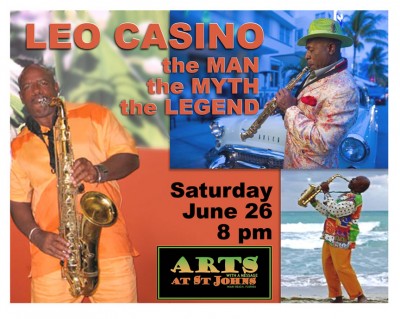 Arts at St Johns presents Leo Casino, The Man, The Myth, The Legend
Saturday, June 26, 8 pm
at Arts at St Johns
4760 Pine Tree Drive,
Miami Beach, FL 33140
Leo has been playing music in Miami Beach & Miami since the 60's!
(read his Miami Beach story here)
A Grammy-nominated saxophonist, composer, filmmaker, actor, model and activist, Leo has long ago surpassed the boundary of accomplished musician. He is as comfortable incorporating Latin and Middle Eastern melodies into his music as he is performing in his well known, sultry smooth jazz style!
Leo's concert will also feature Mario Marrero on piano and Electrico percussion, Tommy Johnson on guitar, Anthony Nelson, guitar virtuoso, Cherokee, and a surprise celebrity musician or two!
Leo Casino Concert to benefit the people of Haiti
Over the years, Leo has become increasingly interested in giving back. He's lectured on race relations at colleges around the country and has been awarded an honorary doctorate from Mallory College. He has entertained and raised funds for the victims of Hurricane Katrina. His CD, "Better Days," is dedicated to those that lost their lives on September 11, 2001, and now Leo is focused on helping the people of Haiti in their recovery from the devastating January 2010 earthquake.
Leo composed 30 original songs for his latest CD, "Haiti Will Rise," which are also featured on the soundtrack of his film with the same title.
Mr. Casino is donating his proceeds from this concert towards building a new hospital in Haiti. Read more about this project at http://worldclassorchestra.org/index.htm
For more information on Leo Casino and his many projects and talents, visit:
http://www.leocasino.us/intro.html
Purchase your tickets below or from our home page at: www.artsatstjohns.com
TICKETS: Online/Seniors/Students $15.00
($20 at door)
Tickets may also be purchased at the door. $20 / person or $15 for student or senior