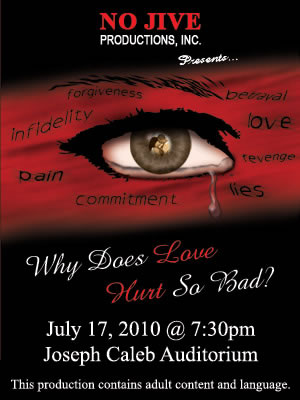 WHY DOES LOVE HURT SO BAD?
July 17, 2010, 7:30pm
Joseph Caleb Auditorium
5400 NW 22nd Ave
www.nojiveproductions.org
"Why Does Love Hurt So Bad?" is a stage play that will keep you on the edge of your seat! Comedy plus drama, the suspense is enough to take anybody on a rollercoaster ride of ups and downs, and the ins and outs of love. It's a gateway for communicating the pain, happiness, and self expression in a relationship. This show will open one's eyes in hopes to forgive and move on.
If you were excited about "His Double Life" and thought it could not get any better wait until you get a taste of the new hit stage play "WHY DOES LOVE HURT SO BAD?"
ADDITIONAL COMMENTS
To charge your tickets by phone,
call 1-800-745-3000 or buy tickets at nojiveproductions.org