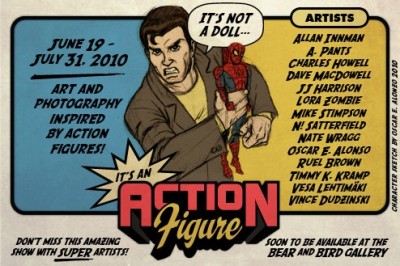 New show opening on Saturday, June 19th
Opening Reception: Saturday, June 19 from 7-10pm
Some of the artists will be in attendance during the opening.
TATE'S Comics, Inc. | 4566 N. University Drive | Lauderhill, FL 33351
It's Not a Doll, It's an Action Figure will feature artwork and photography inspired by, or using, action figures. Not to be confused with dolls, the subjects of Bear and Bird Gallery's latest exhibit are on display doing what they do best: saving, destroying and living lives of high adventure.
Guest curator A. Pants assembled a talented and diverse group of 14 international artists to participate in the show. Pants said, "Each artist was asked to recreate the memory of their favorite action figure and/or explore the fine line between an action figure and a doll."
Bear and Bird owner/chief curator Amanda Magnetta-Ottati passed the curatorial torch for this special engagement to artist A. Pants after seeing the concept develop on Pants' popular blog site, www.nerdsquared.com. The theme is especially appropriate for Bear and Bird Gallery, which sits atop Tate's Comics, a popular shopping destination for toys, collectables, dolls, and action figures. The timing of the show was well planned, as Magnetta-Ottati delivered her own "doll" — a baby girl — on May 20, 2010.
Regular Exhibition Hours June 20 – July 31, 2010
Mon-Thurs 11am-8pm; Fri & Sat 11am-9pm; Sun 12noon-6pm