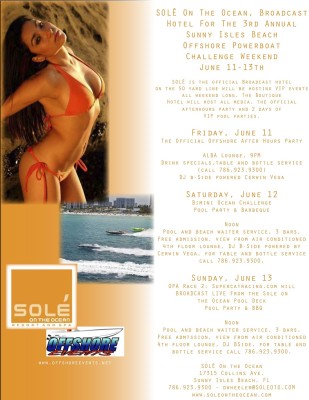 MIAMI-BASED, HIGH PERFORMANCE BOAT MANUFACTURER DEEP IMPACT RACES TO RESTORE MIAMI MARINE STADIUM
Executive Michael Rojas returns to defend Center Console Class title in Bimini Ocean Challenge
Saturday, June 12, 2010
11:00 a.m. to 1:00 p.m.
Haulover Beach Park
10800 Collins Avenue
Bal Harbour, FL 33154
Sole on the Ocean
17315 Collins Avenue
Sunny Isles Beach, FL 33160
Deep Impact Chief Operational Officer and avid racer Michael Rojas will take to the waters off of Sunny Isles Beach on Saturday, June 12, 2010 to defend his Center Console Class championship title in the 3rd annual Bimini Ocean Challenge. Rojas and racing partner Tim Gallagher, aim to maneuver their Deep Impact crafted 360 FS Quad, powered by four 350 horsepower Mercury Racing engines, down the 106-mile stretch of sea to Bimini and back to Haulover Beach Park. Rojas will look to beat the 1 hour 25 minute mark that brought him his first victory in 2009. A repeat win would provide yet another token of merit to his burgeoning Miami-based manufacturing company of high performance power boats, which has experienced a recent revitalization ever since the former magna cum laude finance graduate took over the reigns in 2009 to spearhead the restructuring of the Deep Impact brand.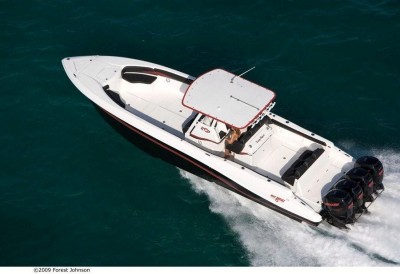 The Bimini Ocean Challenge is just one portion of the five-day Sunny Isles Beach Offshore Power Boat Challenge, a charitable endeavor which aims to raise funds for the restoration of the now defunct Miami Marine Stadium in Key Biscayne, once the official home of speed boat racing in Miami. The events begin on Thursday, June 11 and culminate on Monday, June 14, 2010. Sole on the Ocean hotel in Sunny Isles Beach will host viewing parties throughout the weekend.
Deep Impact is a Miami-based renowned manufacturer of high-quality, high-performance sport-fishing powerboats that utilizes the factory direct sales method. With a revolutionary double-step hull, high-tech materials, seamless finish and European design, Deep Impact's boats offer both superior performance and sublime luxury. For more information, please contact 877.628.9394 or visit www.deepimpactboats.com.