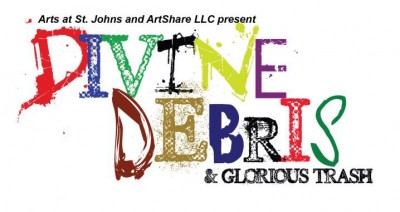 Divine Debris Art Exhibit at Miami Beach Botanical Garden, June 14 – 17
2000 Convention Center Dr., Miami Beach 33139
The Opening Reception is 7-9 pm on Tuesday night (June 15).
Exhibit opens on Monday, June 14, 10 am, for "Hanging with the Artists," an open installation/hanging process.
Exhibit hours 9 to 5 pm on Tuesday, Wednesday, Thursday.
Experience the quirky, edgy creativity of Miami's global art community with art made of trash, debris & found materials. All entries in the 2010 Divine Debris & Glorious Trash Art Exhibit feature works that has some relationship to Miami Beach in conjunction with the Arts at St. John's ongoing History of Miami Beach Project.
Participating artists are: Kathi Gibson . Janet M Mueller . Stefan Von Fouts . Hans Feyerabend . Mila Hajjar . Rosa Naday Garmendia . Roger Abramson . Dan Walker . Kristie Stephenson . Nancy Martini . Jerry McMillan . Luciano Rabuske . Rosie Brown . Scott Hickey . Fritz Leip . Carol Hoffman-Guzman . Paula Turk . Susan Zeil-Wimberly
Come dressed to opening in your eco-fashions, a la Miami Beach – of course!
See below – be part of the outdoor installation "LifeElixir" on Monday!
Be a part of the outdoor installation "LifeElixir."
Artpiece by STEFAN VON FOUTS and SCOTT HICKEY.
Bring all your empty, used water bottles (16.9 FL OZ) on Monday, June 14, at noon, to add to the installation.
Arts at St Johns, Artshare LLC and Miami Beach Botanical Garden
are co-sponsors and presenters of this 2nd annual Divine Debris & Glorious Trash Art Exhibit.
Co-Curators: Dr. Carol Hoffman-Guzman, Founding Dir. of Arts at St Johns
Paula Turk, Sculptor/Photographer and Founder of ArtShare, LLC
Facebook to see the full stories and images of Divine Debris & Glorious Trash artworks!
Arts at St. Johns
www.artsatstjohns.com