Tobacco Road, Life Is Art and Event Rhythm Present

Art and Blues Festival 2010
Saturday, June 19
Tobacco Road
626 South Miami Avenue
Art In The Parking Lot
5pm-2am
Free Before 7pm
Presented by Life Is Art and Event Rhythm
The year's festival will be held on Saturday, June 19, 2010 from 5pm to 2am.
The Legendary Tobacco Road, voted one of the 100 Best Bars in America presents the most brilliant new Artists and Local Legends as they light up the Downtown Skyline in celebration! Supported by Life Is Art.
Tobacco Road, Miami's oldest bar, restaurant, cabaret and mecca for live music and art is giving artists the opportunity to leave a mark on their 2010 Art and Blues Festival!
This year Tobacco Road has an incredible and electrifying lineup. Featuring music by: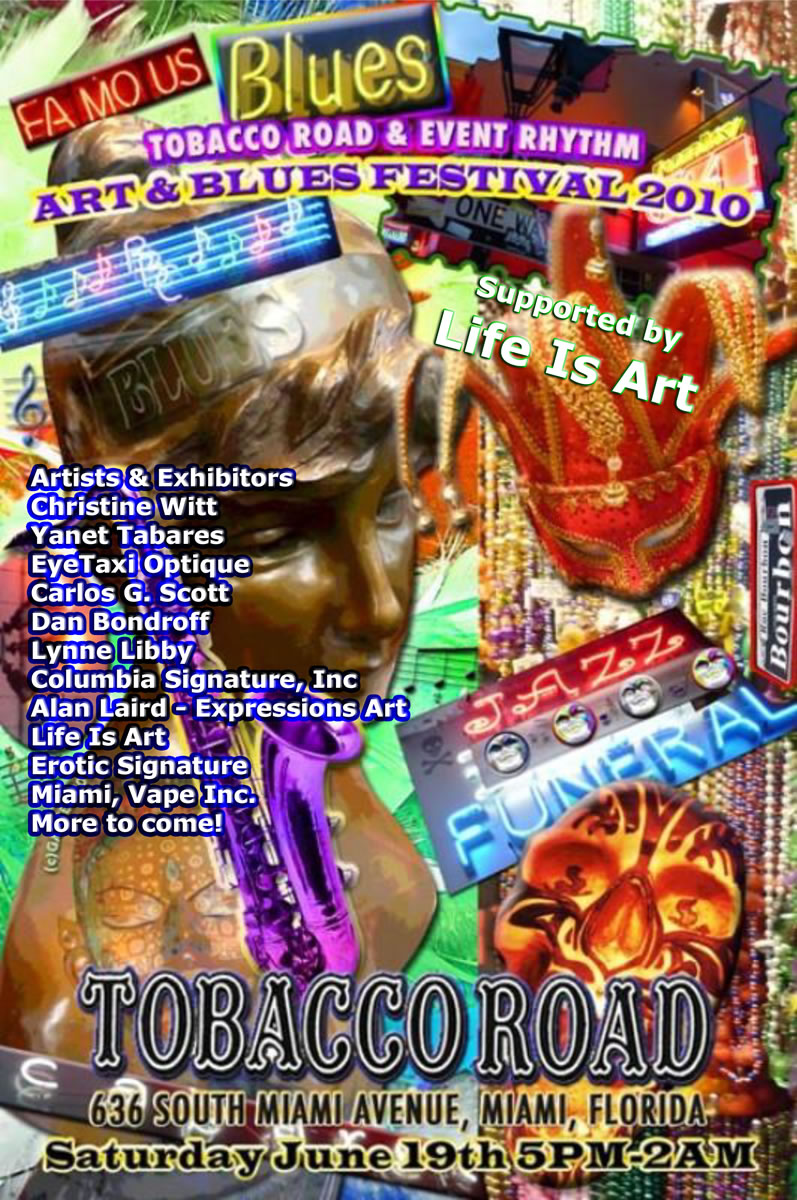 Blues Legend: Matt Guitar Murphy
With: The Nouveaux Honkies
Plus: The Miami Legends Iko-Iko
Hosted by: DJ Oski
7:00pm – 2:00am
$10
Artists and Exhibitors
Al White Owl
Alan Laird
Brian Horan
Carlos G. Scott
Christine Witt
Columbia Signature, Inc
Dan Bondroff & Lynne Libby
Dawn Heisler / Unique Hair Wraps
Erik Ofergard / Green Peace Miami
Erotic Signature
EyeTaxi Optique
Life Is Art
Miami, Vape Inc.
Roger Mendoza
Yanet Tabares
Official Art & Blues Festival Poster created by Gartel
Thank you for using Soul Of Miami!