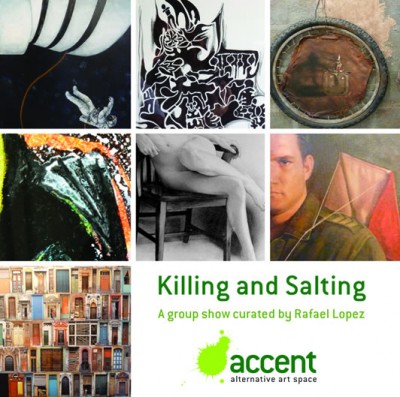 Killing and Salting: A Group Show curated by Rafael López
Opening reception: Thursday, June 10th, 2010. 7:00 – 10:00 p.m.
Accent Alternative Art Space. 4841 SW 75th Street. Miami, FL 33155
Admission: Free
This exhibition by seven Cuban-American artists explore the spaces between two ethnic worlds and articulates in visual terms the everyday experiences commonly felt and perceived in culture.
Artists in the exhibition are Miguel Angel Baez, Julio Figueroa Beltran, Pablo Lazo, Juan Carlos Mirabal, Vicente Valdez Torres, Maria Valero and Carlos F. Wolff.
Accent Alternative Art Space is a not-for-profit art initiative spearheaded by Hispanic marketing and communications agency Accentmarketing. This creative piece of real estate is dedicated to non-commercially driven artists who fall outside of the mainstream Miami art scene. The alternative space will serve as a platform for their work- at no cost to them.
The venue will bring to light hidden talent and artwork outside of the mainstream focus of Miami's art scene while bringing art to neighborhoods it is not currently prominent in. Killing and Salting, the non-profit's premiere exhibit, will feature seven local Cuban-American artists' work that visually captures the day-to-day, bi-cultural experiences unique to Miami.
Accent Alternative Art Space
4841 SW 75th Street
Miami, FL 33155
accentART Facebook Fan Page